Three Identical Strangers is a fascinating documentary that runs the gamut from joyous and surreal to shocking and sad. It tells the story of three complete strangers – Bobby Shafran, Eddy Galland, and David Kellman – who serendipitously discovered, at the age of 19, that they were identical triplets who'd been separated at birth and adopted by three different families in New York. Their story became a tabloid sensation in 1980 as the trio quickly bonded and capitalized on their newfound fame. But that's just part one of the story. The second part is far more sinister, revealing details of the brothers' adoption and their families' unwitting participation in a secret psychological study about human behavior and nature versus nurture. It's the type of documentary that tells a great story and lends itself to plenty of discussion and debate long after the credits roll.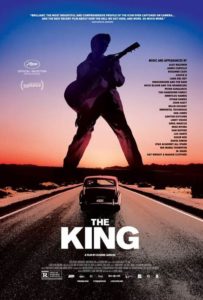 For the record, I've been a huge Elvis fan ever since my first pilgrimage to Graceland circa 1988, when I was fully introduced to his life, legacy and musical influences. I stayed at the Memory Lane Inn, which played Elvis movies in the hotel room 24/7; I toured the Lisa Marie jet, Sun Records, and Elvis's final resting place; and I indulged in a grilled peanut butter and banana sandwich at a local diner. I was captivated by his 1968 comeback special, and his rendition of the song "If I Can Dream" became an all-time favorite. So I was psyched for this documentary because, hey, it's about The King, right? Well, not exactly. The King is about Elvis's life journey as a metaphor for America, then and now. How depressing.
Forty years after Elvis's untimely death, writer/director Eugene Jarecki (Why We Fight, The House I Live In, The Trials of Henry Kissinger) takes the King's 1963 Phantom Rolls-Royce limo on a musical road trip across America, inviting a diverse cast of characters, from the famous to the not-so-famous, to take a seat in the car and share musings or music or even discord relating to Elvis and his iconic place in history. Passengers and commenters include Alec Baldwin, Rosanne Cash, Chuck D, Emmylou Harris, Ethan Hawke, Van Jones, Dan Rather, and Mike Myers (representing "the Canadian immigrant view on Elvis"). The King makes some interesting points about society, race relations, and music "appropriation," but the message is muted by metaphorical overkill. The Rolls breaks down – it's a metaphor; Elvis sells out – it's a metaphor; Elvis represents the American Dream then crashes – it's a metaphor. I'm just not a fan of bringing Elvis into the current political climate to shake up an already divisive populace. We need more Won't You Be My Neighbor, and less metaphorical reminiscence and despair in the age of Trump. A little less conversation, a little more music please. Forget the Rolls, how 'bout a spin in the Pink Cadillac?