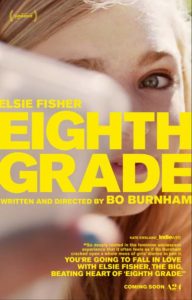 Eighth Grade is a different breed of teen dramedy that plays so authentic and real that it could almost pass for a documentary. It's also authentic and real enough to play like a horror movie for parents of girls between the ages of 13 and 15. Oh, to be 14 again. Not! Adolescence was hard enough with a landline and Instamatic camera. Imagine how tough it can be in this age of smart phones, YouTube, Instagram, emojis and social media mayhem. Eighth Grade takes us there. It follows eighth-grader Kayla (Elsie Fisher) as she struggles through her final week of middle school and prepares for that next big step on the education and socialization ladder – high school.

Here's the gist: Eighth grade has been a rough one for Kayla, and for her single dad Mark (Josh Hamilton) who is trying so hard to encourage, protect and connect with his only child, if only she would remove the earbuds and pull herself away from Snapchat long enough to talk to him. Kayla is a good kid, but her self-esteem is painfully low. The irony is, Kayla exudes confidence in the confines of her bedroom, where she creates social videos advising others on how to make friends, boost their self-esteem and embrace their inner coolness.
Somewhat surprisingly, Eighth Grade was written and directed by a guy, Bo Burnham (who turns the ripe old age of 28 in August). He makes quite the impression in his feature film debut, capturing the essence and experience of an eighth-grade girl remarkably well. For her part, Fisher (Despicable Me, McFarland USA) nails the part of Kayla. She is, after all, a teenager growing up in a technology-driven world. So she can relate.
Eighth Grade quietly captures that timeless teenage combination of anxiety, anticipation, dread, hope and pain in a humorous and sweet way. From the boy crushes to the body image issues to the over-sensitivity to what we later deem the "small stuff".
I attended a screening of Eighth Grade alongside a couple of moms, one of whom brought her 14-year-old daughter. The teen LOVED it – thought it was "so awesome." The moms squirmed a bit, with one quietly asking her daughter mid-movie, "Do you know what that is?" when a boy asks Kayla if she gives good blow jobs. Yikes.
Eighth Grade is rated R but it's worth letting the teenagers watch – with their parents. There are discussions to be had, and lessons to be learned in "Eighth Grade."