Currently browsing the "
Alexis Knapp

" tag.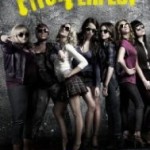 Gleeks will rejoice in Pitch Perfect. It's basically Glee goes to college – a cappella style. But even non-Gleeks can enjoy this one, thanks to a fun, diverse and talented cast, and even a bit of a plot (emphasis on the bit).
The movie stars the uber-talented young actress Anna Kendrick as Beca, a reluctant college freshman who would rather go out to LA to spin records for a living than endure the forced socialization rituals that come with higher education. When her father strongly encourages her to join something – anything – on campus, Beca chooses "The Bellas", the school's all-female a capella group of misfits. The Bellas have one cardinal rule: No fraternizing with the enemy, the school's all-male a capella group The Treblemakers. You can guess how well that works out.