Currently browsing the "
andre braugher

" tag.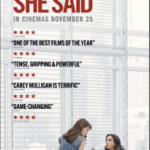 I saw these two films just days apart and they seemed to speak to one another. Both take on sexual predation, but from very different viewpoints. She Said is a journalistic thriller based on the true story of the female journalists who exposed Harvey Weinstein's long history of abuse that led to his much deserved comeuppance and ignited the #MeToo movement. Women Talking is also based on a true story, that of a group of women in an isolated religious community who come together to decide how to deal with a long and horrifying history of rape by the men in their enclave. The women who tell their stories in She Said are fearful of losing their careers, while the ones in Women Talking are afraid they will lose their place in heaven. And so they all have to think long and hard about how to take on the monstrous men who hold power over them.
Spirit Untamed is a conventional family-friendly animated adventure that honors teamwork, friendship and female empowerment. And whoa… there are wild horses. And some catchy tunes. All that makes this second installment of a franchise that began with the 2002 Oscar-nominated film Spirit: Stallion of the Cimarron worth the ride. There's not much new to gain, but nothing to lose either. So if the spirit moves you, saddle up.