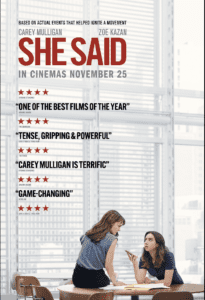 I saw these two films just days apart and they seemed to speak to one another. Both take on sexual predation, but from very different viewpoints. She Said is a journalistic thriller based on the true story of the female journalists who exposed Harvey Weinstein's long history of abuse that led to his much deserved comeuppance and ignited the #MeToo movement. Women Talking is also based on a true story, that of a group of women in an isolated religious community who come together to decide how to deal with a long and horrifying history of rape by the men in their enclave. The women who tell their stories in She Said are fearful of losing their careers, while the ones in Women Talking are afraid they will lose their place in heaven. And so they all have to think long and hard about how to take on the monstrous men who hold power over them.
She Said is a pretty straight forward story, and unless you've been asleep the past several years, you know the outcome. It's 2017 and Jodi Kantor (Zoe Kazan, The Big Sick) a reporter at The New York Times hears that actress Rose McGowan is going to write about being assaulted by Weinstein. She contacts McGowan but is unable to get her to go on the record. Undaunted, she starts asking around and finds other women with similar stories, though they won't go public either. When it looks like this is a bigger story than just a couple of women, she recruits fellow report Megan Twohey (Carey Mulligan, Promising Young Woman) to work with her on the piece, and the two of them collect more stories from more women, but finding anyone willing to go public is still a problem. They begin to see how far Weinstein's powers of intimidation reach. Charges were dismissed in cases. There were payouts and NDAs signed to keep the women silent. Soon Kantor and Twohey and the New York Times are threatened, but they eventually find one brave woman (Ashley Judd, playing herself here) willing to go on the record. They publish the story and win a Pulitzer for their efforts.
It's a taut thriller of a story with excellent performances. Reminiscent of Spotlight or All the President's Men, it's a worthy addition to the film canon of dogged journalism changing the system.
Women Talking is much quieter though no less dramatic. Most of the film takes place in the loft of a barn as the women discuss their choices after finding out that the men have been drugging and raping them for years, all the while convincing them that they are imagining it or that Satan is telling them lies. The women are trying to chart their path forward with several possible alternatives: "We must decide to stay and fight or leave. We will not do nothing," declares one woman. But others wonder if they can forgive and forget. What follows is mostly a long discussion of the patriarchy and the system they have accepted that no longer holds sway over them. In the hands of another director, the film might have felt very stagey or slow, but it is riveting and profound. The men are in jail, but they and their violence are returning soon, so the danger is just outside the barn, coming any time, and the women are determined to decide how to save themselves and their children.
The discussion touches on the theological, the philosophical, the emotional, as well as community and trust and the patriarchy. And somehow without leaving the barn it demands your attention. The film is well-written and directed by Sarah Polley who gathered a fabulous cast (Rooney Mara, Claire Foy, Judith Ivey, Jessie Buckley, Ben Whishaw) and knew how to get great performances from them all.
I highly recommend both movies.
She Said is in theaters now.  Women Talking is opening in limited release December 23rd and wider in January. 
.