Currently browsing the "
Sarah Polley

" tag.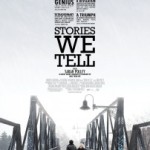 Stories We Tell begins as a fairly straightforward documentary about a mother who died young and the family that has a lot of stories to tell about her, but it becomes much more than garden-variety biography. The film was made by her daughter, who happens to be accomplished actress and director Sarah Polley (Take this Waltz, Away from Her), and the film's narration is done by the father/husband who was once an actor and was inspired to write the story of the documentary. Polley's brothers and sister and an assortment of friends add their spin on the stories of Diane Polley who lived large, but was ultimately a mystery to even those closest too her.
Take This Waltz is one of those indies that I kept thinking might have a different sense of pace and was maybe just going to take a bit of breath before it got going, and then it would make the ride worth my time. But sadly, I was wrong. It promises to be a love story, but love is what is missing. Instead there is a lot of weird cutsieness that I guess is supposed to be a good substitute for romance, but ends up being pretty annoying.