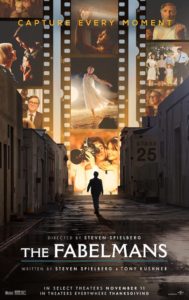 Steven Spielberg knows storytelling. So it's really no surprise that The Spielbergs – er, I mean The Fabelmans – is a good yarn. It's a semi-autobiographical drama that dives into Spielberg's personal history, while pulling back the curtain on family secrets and the evolution of his obsession with filmmaking. Or, for the purposes of creative license, Sammy Fabelman's obsession with filmmaking. Sammy – Steven. Steven – Sammy. Close enough.
As the film opens, it's January 1952, and young Sammy (Mateo Zoryan) is attending his first movie, The Greatest Show on Earth. He's hooked. Get that boy a camera! It will become the lens through which we view a dysfunctional family dynamic rooted in love and heartbreak.
The Fabelmans features a strong ensemble cast that includes Gabriel LaBelle as 16-year-old Sammy; the always-phenomenal Michelle Williams (Manchester by the Sea, My Week with Marilyn) as Sammy's artistic, free-spirited mother Mitzi; Paul Dano (The Batman, There Will Be Blood) as his scientific-minded father Burt; and Seth Rogen (Superbad) as Burt's best friend and honorary "uncle" to Sammy and his sisters. Pair that cast with a screenplay co-written by Spielberg and his frequent collaborator Tony Kushner (Lincoln, Munich) and music by five-time Academy Award winner John Williams (Schindler's List), and you've got the makings of an Awards season contender. With Michelle Williams a virtual shoe-in for an Oscar nod.
Like the Fabelmans themselves, the film has its flaws. Spielberg is so close to the material that he lets it run on longer than he should. But kudos to him for letting the story be told to begin with, and getting his sibs onboard. It was truly a family affair.
Ultimately, I don't think The Fabelmans will endure as one of Spielberg's most memorable cinematic feats. But it's the type of film that can and should appeal to a wide audience. Good story. Good performances. Good score. And a lot of heart.
Arty Chick weighs in: 
I have to disagree with Mainstream Chick. I found this one a snoozer. It's one of those films where the filmmaker thinks their own story bigger than it is or maybe he's just better at telling other people's stories. Sure we all love Spielberg's films and he is one of the biggies. And the shooting of his first silent films is a lot of fun to watch, but the family story is just too cliched and not really all that much fun to watch. I was hoping for a Cinema Paradiso kind of nostalgic flick, but this one doesn't have that one's heart or its love of the film world. I was expecting a lot more from Stephen who usually serves up films that I find overly sentimental, but still moving. And yes, I know I am the outlier here, but it did nothing for me.
The Fabelmans opened in wide release on November 23.