Currently browsing the "
Anthony Quinn

" tag.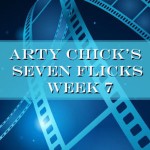 This week's picks won boatloads of Oscars and had nominations galore. They hail from France, and Italy, and Germany, and Spain, and one has no dialogue.
When I put together the list I was just choosing a favorite film a day with no overall agenda, but this week's turn out to be heavy on male characters, from a movie star to a boxer, a mime to a brute, an angel to a hard boiled detective. And five of them are in black and white.
The films are:
The Artist; Raging Bull; Biutiful; Les Enfants Du Paradis; Chinatown; Wings of Desire; La Strada