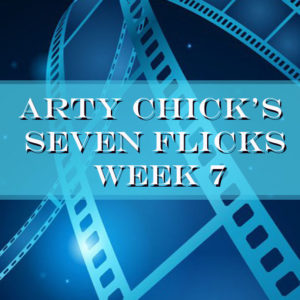 This week's picks won boatloads of Oscars and had nominations galore. They hail from France, and Italy, and Germany, and Spain, and one has no dialogue.
When I put together the list I was just choosing a favorite film a day with no overall agenda, but this week's turn out to be heavy on male characters, from a movie star to a boxer, a mime to a brute, an angel to a hard boiled detective. And five of them are in black and white.
The films are:
The Artist; Raging Bull; Biutiful; Les Enfants Du Paradis; Chinatown; Wings of Desire; La Strada 
43
 

The Artist 2011

The Artist is an adoring ode to classic Hollywood. It is brimming with visual references to the great movies and movie stars from the early days of cinema, and the gloriously shot black & white imagery harkens back to an era when movie sets were works of art. Being a silent film, the soundtrack is in itself a character and I cannot imagine a better choice of period music along with several bits of whimsy. There is even a little dog with a big personality that would make Asta green with envy.

But what makes this movie really shine is the performance of the artist himself, Jean Dujardin, playing the central character George Valentin. You cannot help but absolutely love this man. What a face! Valentin is a huge silent film star as the movie begins. But it is 1927 and the talkie has come to town, and he is trying desperately to remain on top, while refusing to bow to the new technology. And then he meets a young up and coming starlet.

It won 5 Oscars – Best Directing, Best Picture, Best Performance by a Male, Best Costumes, Best Original Score. And there were 5 more nominations. 
44
 

Raging Bull 1980

This is without doubt one of Scorsese's best films. Robert De Niro stars as real life boxer Jake LaMotta who was world middleweight champion in 1950. Shot in gorgeous black & white, while it's set in the world of boxing, it's really about a man's self-destruction. Scenes of LaMotta in the ring are juxtaposed with scenes at home as he beats his beautiful young wife (Cathy Moriarty) because he's paranoid that she's cheating.  

De Niro gained 60 pounds to inhabit the brutal boxer who drove away everyone in his life. It's a tragic American story.

The film won 2 Oscars – Best Actor for De Niro and Best Editing for Thelma Schoonmaker. It had another 6 nominations. 
45
 

Biutiful 2010

This movie broke my heart. From Mexican director Alejandro González Iñárritu (Birdman, Amores Perros),  the film stars Javier Bardem as Uxbal, a father taking care of everyone, except himself. He has two young children, an unmedicated bipolar ex-wife, groups of African and Chinese illegal immigrants who are depending on him for work, and unbeknownst to all of them he is dying of cancer. He also has a talent for speaking with the dead, though not in an "I see dead people" sort of way. He's just a working class José in Barcelona trying to make ends meet any way he can.

You must be prepared for some very depressing subject matter. I cried several times during Biutiful. But I think it worth seeing for Javier Bardem's painfully honest performance alone. He was nominated for an Oscar for it. The movie was also nominated for Best Foreign Language Film.
 
46
 

Les Enfants Du Paradis 1945

This film shows up on a number of best film lists. Marlon Brando called it "maybe the best movie ever made."  It's a love story set in Paris in the 1830s. Four men are in love with Garance, a very beautiful woman who works in a carnival. A Mime, an Actor, a Thief, and an Aristocrat. Jean-Louis Barrault, plays the Baptiste, the French mime who made the Pierrot character famous. He saves Garance when she is accused of theft by acting out what he saw. And he is smitten. But she spurns his advances. The other men all vie for her, but she only relents to be with the Aristocrat after she is again unjustly accused of a crime. Years later when Baptiste is married and has a child Garance returns and tells him she has always loved him. 

There's a lot more to the plot concerning the other 3 men, but Baptiste is the one you care about. It's gorgeously shot and all the actors are fabulous!  The screenplay was nominated for an Oscar. There are various alternate cuts of this film, but the complete restored version runs 195 minutes and is divided in two parts. Yes, it's long, but it's worth your time and what are you doing during this pandemic anyway?
47
 

Chinatown 1974

I saw this one again on a big screen a few years ago and it still has it! Directed by Roman Polanski with a script from Robert Towne, it's a brilliant noir detective story set in Los Angeles in the 1930s. Jack Nicholson stars as Private Eye Jake Gittes. He's hired by a Mrs. Mulwray who wants dirt on her husband, who happens to be the chief engineer of the LA Water and Power Company. He tails him and takes photos of him with another woman which he delivers to the wife. Those photos turn up in the papers the next day. But then the real Mrs. Mulwray (Faye Dunaway) shows up and threatens to sue Gittes. Then the husband turns up dead. And Mrs. Mulwray hires Gittes to find out what happened. 

The film takes a deep dive into the corruption of the city, especially the water rights, and Mrs. Mulwray's father's (John Huston) involvement. It's a very dark story with detours into an incestuous relationship. One of the great scripts of all time. 

The film won the Oscar for Best Screenplay with 11 additional nominations.  
48
 

Wings of Desire

 

1987

One of my top 5 films. I loved it when it came out and it hasn't lost anything. It's the story of the angel Damiel (Bruno Ganz) in Berlin. He and his fellow angel Cassiel spend their time watching the mortals, hearing their thoughts, and trying to help them cope. And then one day Damiel starts watching Marion, a sad trapeze artist whose troupe in disbanding and he's drawn to her.  At the same time Peter Falk playing himself arrives in the city to shoot a film. It turns out he was once an angel but gave it up because he wanted to experience life with all its ups and downs. He can sense Damiel and tells him all about the pleasures of a human existence. And Damiel gives up his immortality for a life on earth with Marion, who he finally meets in bar as Nick Cave and the Bad Seeds play a concert.    

It's so beautifully shot in black and white and Bruno Ganz is amazing.  There was a 1998 American remake of it called City of Angels starring Nicolas Cage and Meg Ryan that lost all the magic of the source material.   The original is a must see! 
49
 

La Strada 1954

Another of my top 5. In this classic from Fellini, Gelsomina (Giulietta Masina) is a simple waif when she is sold by her mother to a traveling strongman named Zampanò (Anthony Quinn). He teaches her to play the drum and trumpet as his accompaniment, but other wise treats her horribly.  But when they join a small circus, an acrobat called The Fool (Richard Basehart) tries to show her that she can have a happier life. He also takes it upon himself to bring Zampanò down to size, teasing him mercilessly. This eventually results in a brawl and both men are fired from the circus and Zampanò is jailed. When he gets out, Gelsomina is waiting for him. And when they come upon The Fool, Zampanò takes his vengeance. 

Giulietta Masina (Fellini's wife) creates one of the most indelible characters ever on film. She's sweet and determined to please and ultimately a tragic figure. Anthony Quinn is the perfect brute, and Richard Basehart was a total surprise. I knew him mainly from television ("Knight Rider", "Voyage to the Bottom of the Sea"), but he had a feature career, too.  The film won the Best Foreign Language Film Oscar. 

ENJOY AND CHECK BACK NEXT WEEK FOR PART 8!
All of these are streaming and some of the older ones you can find at your library.

And in case you missed them, here are the links to the previous weeks: Week 1, Week 2, Week 3.  Week 4, Week 5, Week 6

This list started as a pandemic exercise wherein I posted a film a day on my Facebook feed. The only criterion was that it was something I remember liking back when I saw it last. I am not sure they all hold up to repeat viewing given hindsight and more recent social mores. But hey, they were all considered good films at one time, and so many of them were multiple award winners. I'm just hoping to give my stuck-at-home-without-a-clue friends some alternatives to the new films coming out these days and a quick guide to curtail the endless scrolling through Amazon and Netflix and whatever streaming services you've signed up for.