Currently browsing the "
Frederio Fellini

" tag.
This week I chose a comedy thriller, a political thriller, a classic screwball comedy, a wartime romance, a storybook romance, a Japanese existential drama, and a loving ode to an Italian childhood.
All of them received Oscar nominations and several of them were big winners. Three of them were up for the Best Foreign Film award.
This week's picks are: Sleuth, My Man Godfrey, Casablanca , The Princess Bride, Woman in the Dunes, Z , and Amarcord .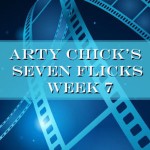 This week's picks won boatloads of Oscars and had nominations galore. They hail from France, and Italy, and Germany, and Spain, and one has no dialogue.
When I put together the list I was just choosing a favorite film a day with no overall agenda, but this week's turn out to be heavy on male characters, from a movie star to a boxer, a mime to a brute, an angel to a hard boiled detective. And five of them are in black and white.
The films are:
The Artist; Raging Bull; Biutiful; Les Enfants Du Paradis; Chinatown; Wings of Desire; La Strada