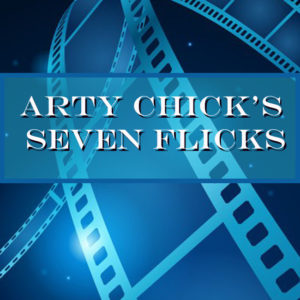 This week I chose a comedy thriller, a political thriller, a classic screwball comedy, a wartime romance, a storybook romance, a Japanese existential drama, and a loving ode to an Italian childhood.
All of them received Oscar nominations and several of them were big winners. Three of them were up for the Best Foreign Film award.
This week's picks are: Sleuth, My Man Godfrey, Casablanca , The Princess Bride, Woman in the Dunes, Z , and Amarcord .
78. Sleuth 1972
In this brilliant adaptation from Anthony Shaffer's play, Andrew Wyke (Sir Laurence Olivier) is a wildly successful author of detective fiction. Milo Tindle (Michael Caine) is a hairdresser who comes to his house one night to ask him to divorce his wife so he can marry her. Andrew isn't particularly bothered since he and the wife are estranged and he has a mistress, but he sees the request as a great excuse to play a game. He will grant the request if  Milo steals his wife's jewelry and they make it look like a burglary. The thinking is that Milo can make a fortune selling the jewels to an intermediary and Andrew would be reimbursed by the insurance company and would not pay alimony. Win-win, no? And it all goes according to plan until Milo vanishes and a detective shows up to investigate and the tables are turned on Andrew.
This is a twisty turny comedic thriller with some of the sharpest dialogue ever. Olivier and Caine worked so well together, they were both nominated for the Best Actor Oscar. (Brando won that year for The Godfather.)
The film was remade in 2007 with Michael Cane and Jude Law. But as with most remakes, the original was better. The original received 4 Oscar nominations. Best Actor (Olivier and Caine), Best Director (Joseph L. Mankiewicz) and Best Score.
79. My Man Godfrey 1936
In the depths of the Depression, a bunch of rich folks have a scavenger hunt for charity, which brings dizzy socialite Irene Bullock (Carole Lombard) to the city dump looking for a "forgotten man." There she meets Godfrey (William Powell), an articulate derelict, and talks him into coming with her so she can win the prize. Then she brings him home, where he's hired as the butler. He finds the Bullock family to be the epitome of idle rich, vapid and entirely out of touch with what's happening outside their little world. He may be the butler, but he's able to give sage advice to everyone in the family, and Irene falls in love with him, referring to him as her protege. Godfrey fends her off explaining that romance between a servant and his employer simply isn't done.
But there's a lot more to Godfrey than meets the eye and before the film is over, he's no longer the butler and she's no longer his employer, so all bets are off. This is screw-ball comedy at its best. The whole family is crazy and one of my favorite lines from the film comes from the father: All you need to start an insane asylum is an empty room, and the right kind of people!
The film garnered 6 Oscar nominations: Best Actor, Best Actress, Best Supporting Actor (Mischa Auer) , Best Supporting Actress (Alice Brady), Best Director , and Best Screenplay. 

80. Casablanca 1942
It's a classic and I always assume everyone has seen it, but I've found more and more people who never got around to it. It's one of those films I've seen over and over and I still cry when the Frenchmen drown out the Nazi's singing with La Marseillaise.
Set during World War II in Casablanca, Morocco, Rick (Humfrey Bogart), an expat American and former freedom fighter, runs the most popular nightclub and gambling establishment in town. His clientele runs the gamut from Nazi officers to desperate refugees. A notorious lowlife (Peter Lorre) entrusts him with two valuable letters of transit and then dies. The letters would allow the holders to escape from the Nazis. But Rick isn't sure who he'll sell them to.
Then he hears the piano playing a song he'd forbidden to be played at the club. And discovers the lost love of his life Ilsa (Ingrid Bergman) standing by the piano.  Turns out that she's there with her husband Victor Laszlo (Paul Henreid), a notorious Czech Resistance leader who the Nazis are dying to catch. But Rick is still hurt because he and Ilsa were a thing back in Paris and she ran out on him (or so he thinks). So when Laszlo comes to Rick for the letters, Rick won't sell and tells him to ask his wife why.
But of course the good guys win in the end and the Nazis lose. It's a romance and a thriller and has a great screenplay. And there are so many quotes from this film that still come up: Of all the gin joints, in all the towns, in all the world, she walks into mine. — I think this is the beginning of a beautiful friendship. — Here's looking at you, kid. — Round up the usual suspects. — Maybe not today. Maybe not tomorrow, but soon and for the rest of your life. — We'll always have Paris. 
The film received 8 Oscar nominations, and won for Best Picture, Best Director, and Best Screenplay. Trivia:  Rick never says "Play it again, Sam." He says: "You played it for her, you can play it for me. If she can stand it, I can. Play it!"

81. The Princess Bride 1987
A grandfather (Peter Falk) brings a book that's been in the family into his sick grandson's room to read to him. The grandson (Fred Savage) thinks he's too old for it and probably won't like it, but lets grandpa read just a little anyway. The story is about Buttercup (Robin Wright), a beautiful young farm girl who has been selected by evil Prince Humperdinck (Chris Sarandon) to be his bride. She's not too happy about that because she's still in love with farmhand Westley (Cary Elwes), though she (mistakenly) believes he's was killed by the Dread Pirate Roberts. But one day she's kidnapped by a band of misfits: Brainy Vizzini (Wallace Shawn), brawny Fezzik (André the Giant), and master swordsman Inigo Montoya (Mandy Patinkin). Soon they are being pursued by a masked man (Dread Pirate Roberts himself) and also Prince Humperdinck and his men.
This being a fairy tale, you know it's all going to end well, but getting there is a whole lot of fun. There's swordplay, evil henchmen, mistaken identity, a trip through a Fire Swamp with the threat of Rodents Of Unusual Size, and ultimately true love prevails. Oh, and the grandson agrees to have Grandpa read it again the next day!
It's a delightful script. William Goldman adapted his own novel. And Rob Reiner directed, having been in love with the story since his father Carl gave it to him as a gift. Mostly too light for the Oscars, it did get one nomination for the Best Original Song "Storybook Love". Anyone remember that one?

82. Woman in the Dunes (1964) (
砂の女

, Suna no Onna, "Sand woman")

This Japanese new wave drama is one I first saw in film school. In it a teacher/entomologist is in a small village collecting sand insects when he gets lost in thought and misses the last bus home. The villagers are kind enough to find him a place to stay for the night. It's a bit strange, but he takes it. He's staying with a young woman whose house is in a sand pit and only accessible by a rope ladder. But when it's time to leave, the ladder has disappeared. He's stuck down there with the woman whose every day is consumed with filling buckets of sand so that she and her house will not be buried. The villagers are in on it with her and remove the buckets, and provide food and water. The man tries everything to get out, to convince her and the villagers to let him go, but she needs a helper and she's not interested in getting out herself.

Eventually he and the woman grow close, but when the opportunity presents itself, he escapes only to be caught in quicksand and returned to the pit by the villagers. It's a fabulous existential story, beautifully shot.

The film is on numerous "greatest films" lists and has a 100% on Rotten Tomatoes. It film received two Oscar nominations: One for Director Hiroshi Teshigahara and another for Best Foreign Language Film.

83. Z (1969)
This political thriller is based upon a real event, the assassination of the Greek politician and physician Grigoris Lambrakis in 1963. It's also frighteningly familiar at this moment, as it pits the left against the right, with the right dominated by militants who are willing to do anything for their cause. In the film a well-known liberal politician (Yves Montand) is killed during a demonstration that turns violent when the military's thugs step in to break it up. The murder is covered up by the military and the government. But The Examining Magistrate (Jean-Louis Trintignant) uncovers evidence that the assassination was planned by senior policemen and right-wing extremists. Of course bringing them to justice is a much harder task.
The film is a powerful anti-fascist statement and an edge of your seat political thriller.
Trivia: Prints of the film were acquired by the Black Panther Party and shown at underground screenings. An advance copy of the film was shown at the United Front Against Fascism conference in 1969.
The film received five Oscar nominations and won for Best editing and Best Foreign Language film.

84. Amarcord 1973
This is Fellini's ode to his childhood in 1930s Fascist Italy. It takes place in a small Adriatic village over the course of a year. Filled with eccentric characters, it's a series of tales that connect as the audience gets to know the community. Standing in for Fellini is young Titta who hangs out with his teenage friends, frequently getting in to trouble with his stern father, and acts as the viewers' eyes, watching the townspeople, their daily lives and many odd moments. Since we're talking adolescents, there's a lot of lusting after many different women in the town. There's also going to church to be forgiven for the many lustful thoughts, where the priest is obsesses with the boys touching themselves.
It's all very light, even when the politics of the time come into play. The father plays the Internationale from a loudspeaker when a Fascist leader comes to town. The townspeople disagree on many things, but at the end of the day, they're all in it together. It's a very nostalgic film, very kind to its crazy characters, painting the little town as a place disconnected from our current world. And it's very Fellini, parades and group events that include a blind accordion player and a midget nun, fantasy sequences, shot with exaggerated close-ups, and the whole thing scored with Nino Rota's beautiful music.
It's considered by many to be his final great film. The film received three Oscar nominations including Best Director and Screenplay. It won for Best Foreign Film.
HAPPY VIEWING AND CHECK BACK NEXT WEEK FOR PART 12!
All of these are streaming and some of the older ones you can find at your library.
And in case you missed them, here are the links to the previous weeks: Week 1, Week 2, Week 3, Week 4, Week 5, Week 6, Week 7, Week 8, Week 9, Week 10, Week 11
This list started as a pandemic exercise wherein I posted a film a day on my Facebook feed. The only criterion was that it was something I remember liking back when I saw it last. I am not sure they all hold up to repeat viewing given hindsight and more recent social mores. But hey, they were all considered good films at one time, and so many of them were multiple award winners. I'm just hoping to give my stuck-at-home-without-a-clue friends some alternatives to the new films coming out these days and a quick guide to curtail the endless scrolling through Amazon and Netflix and whatever streaming services you've signed up for.