Currently browsing the "
Jean-Louis Trintignant

" tag.
This week I chose a comedy thriller, a political thriller, a classic screwball comedy, a wartime romance, a storybook romance, a Japanese existential drama, and a loving ode to an Italian childhood.
All of them received Oscar nominations and several of them were big winners. Three of them were up for the Best Foreign Film award.
This week's picks are: Sleuth, My Man Godfrey, Casablanca , The Princess Bride, Woman in the Dunes, Z , and Amarcord .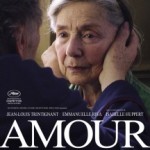 Amour has been at the top of a lot of lists this awards season. It is Oscar nominated for Best Picture and Best Foreign Language Feature (that has only happened 5 times), Best Director, Best Actress, and Best Original Screenplay. It won the Palme d'Or at Cannes and the Golden Globe for Best Foreign film. And yet, I wasn't all that blown away by it. Austrian director Michael Haneke was also the festival darling in 2010 for his film The White Ribbon which left me cold. So maybe, even though I am the arty one, he is just not the director for me. Which is not to say that the film is bad. It is just that it is too long and there are quite a few things that felt entirely gratuitous.