Currently browsing the "
William Powell

" tag.
This week I chose a comedy thriller, a political thriller, a classic screwball comedy, a wartime romance, a storybook romance, a Japanese existential drama, and a loving ode to an Italian childhood.
All of them received Oscar nominations and several of them were big winners. Three of them were up for the Best Foreign Film award.
This week's picks are: Sleuth, My Man Godfrey, Casablanca , The Princess Bride, Woman in the Dunes, Z , and Amarcord .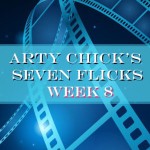 This week's picks include classics and cult faves. There's only one foreign film in the bunch for a change of pace. Two of the films come from the same director, though one is a frightening drama and the other is a sci-fi. There's a screwball detective comedy and a Spanish psychopath on the Amazon drama. It's heavy on the 30s and the 70s.
The films are: Aguirre Wrath of God, It Happened One Night, Don't Look Now, Notorious, Fight Club, The Thin Man, The Man Who Fell to Earth