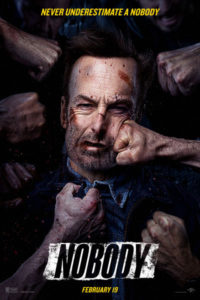 Don't mess with 'nobody'. He's got skills – in a John Wick meets Taken sort of way. Nobody stars Bob Odenkirk ("Better Call Saul," The Post, Nebraska) as Hutch Mansell, a seemingly mundane, anti-confrontational dad stuck in a routine: go for a morning run, make breakfast for the family, punch a clock at work, eat dinner, make small talk with the wife and kids, go to bed. Repeat. Every day. No muss. No fuss. Living life under the radar…
Until one night, when a couple of thieves break into his suburban home, triggering a series of events that brings out a side of Hutch that has been dormant for years. Turns out, he's no pushover. In fact, he's the last guy you want to cross – regardless of whether you're an obnoxious street punk or a powerful, vengeful Russian drug lord (Aleksey Serebryakov, Amazon's "McMafia").
Hutch is a killing machine with a moral code. And he's a ton of fun to watch. I've always had a soft spot for the John Wick franchise even though I generally balk at watching blood spatter across a screen. So it should have come as no surprise (though it did) to learn that the guy who wrote Nobody also wrote the Wick flicks. The 'Wick shtick' is prevalent in Nobody – tempering massive amounts of carnage with a healthy dose of cynicism and dry wit.
Director Ilya Naishuller (Hardcore Henry) does a good job with the film's pacing, hitting the running-time sweet spot of 90-minutes without sacrificing character development and story. The film also benefits from a cool soundtrack and a solid supporting cast that includes Christopher Lloyd as Hutch's father, musician-actor RZA as his brother, and Connie Nielsen as his wife.
As the tag line on the movie poster says, "Never underestimate a Nobody." Especially if you're in the mood for a quick, entertaining thriller.
Nobody hits theaters on March 26. I hope it shows up on the streaming services sooner rather than later.