Currently browsing the "
Audra McDonald

" tag.
Beauty and the Beast represented near-perfection for an animated musical when it competed for Best Picture honors in 1991. So it's hard to imagine that any reimagining of the "tale as old as time" could possibly hold a candle – or a lumiere – to that instant classic. But Disney's live-action Beauty and the Beast does what it set out to do, and that's bring a strong cast, a contemporary vibe, and a few new songs to audiences old and new. And while it's not perfect, it is quite enchanting.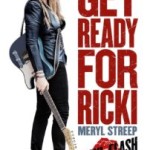 I had to see this flick, cause you know — Meryl. And there was also Dr. Noah Drake, I mean Rick Springfield of "Jessie's Girl" fame. How bad could it be? The good news is that it isn't as bad as I'd heard. But it really isn't what it could have been. Meryl plays the title character Ricki Rendazzo, formerly Linda Brummel of Indianapolis, now a long-in-the-tooth rock and roll singer with her own band called The Flash playing nightly at a locals bar in Tarzana, California. By day she is a cashier at a health food supermarket, and she can barely make ends meet, but she is content with her life. Then she gets a call from her ex. Her daughter is in trouble and she needs to come back to help. She hasn't been there for her kids in years, so what could go wrong?