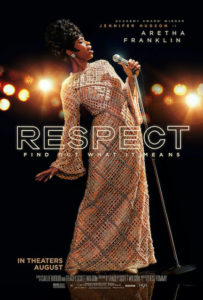 You gotta respect the artist and the music, even if the movie itself feels a bit stale. Jennifer Hudson sings it out of the park as the legendary 'Queen of Soul' Aretha Franklin in the biopic RESPECT, which surely would have pleased Franklin who handpicked Hudson for the role. Yet the script does not compel Hudson to showcase the emotional range that earned her a Best Supporting Actress Academy Award for Dreamgirls in 2007. RESPECT is at its best when the music is playing, and when we see how "Re-Re" (as Aretha was known) can take a song, rearrange it, and make it her own. The film is at its worst when skimming through all the obstacles she had to overcome along the way, including physical, sexual and verbal abuse, the sudden death of her mother, a childhood pregnancy, a controlling father, a jealous hothead husband, alcoholism. However true, it's presented as a mass of cliches familiar to a slew of biopics and documentaries, including recent explorations of the hard knocks endured by Tina Turner and Billie Holiday, and the role of faith and music in their respective journeys. 
The supporting cast all do their part to prop up the narrative, especially Oscar winner Forest Whitaker (The Last King of Scotland) as Aretha's father, a Baptist Minister who hosted gatherings for the likes of Dinah Washington (awesomely portrayed by Mary J. Blige), Smokey Robinson (Lodric D. Collins) and Martin Luther King Jr. (Gilbert Glenn Brown). A young Aretha (Skye Dakota) would get jostled out of bed to perform for the famous houseguests, who knew they were watching a prodigy in action. RESPECT is rated PG-13, so it intimates more than it shows when it comes to the darkest turns. Instead, there's a phone call about her mother's death; the closing of a door after a slimy dude enters young Aretha's room; a quick shot of a very pregnant girl; a fist raised in anger; empty bottles of booze strewn across the floor; multiple kids with unknown fathers essentially being raised by Aretha's grandma, Mama Franklin (Kimberly Scott).
I wasn't aware of Aretha's backstory, and I do think her fans – and music appreciators across the board – will value learning more about her journey from church choir standout to international superstar, as well as how she found her particular voice and her role in the 1960s Civil Rights movement. I just wish the film could have found a stronger narrative thread and given us a taste of her success after she documented the making of a live gospel album, "Amazing Grace", in 1972.
For all its faults, the music is phenomenal, as was Aretha. I saw the film in a (COVID-limited capacity) theater screening and many in the audience erupted in applause with both Hudson's moving vocals, and a goosebump-raising performance over the end credits – of Aretha herself bringing down the house singing "Natural Woman" at a Kennedy Center Honors tribute to Carole King in 2015. That alone put RESPECT in the general category of crowdpleaser, even if the telling of her story was just so-so.
RESPECT opens in theaters on August 13.