Currently browsing the "
Boluwatife Treasure Bankole

" tag.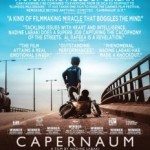 "Capernaum in French is used usually in French literature to signify chaos, to signify hell, disorder," according to Lebanese filmmaker Nadine Labaki, director of this emotionally wrenching film. At the center of this hell is a little boy named Zain (Zain Al Rafeea), a young Lebanese boy who is exploited and miserable. He's 12-years-old but looks about 8. And his world collapses when the one person that he has a loving relationship with, his 11-year-old sister Sahar (Cedra Izam), is sold off as a child bride. So he runs away from his useless parents and has to fend for himself in a very ugly world. And he finds a temporary haven with an Ethiopian woman named Rahil (Yordanos Shiferaw) and her baby son Yonas (Boluwatife Treasure Bankole), only that, too, falls apart and he ends up in jail for stabbing the "son of a bitch" who stole his sister. And it's there that he decides to sue his parents for having him. And you totally understand his reasoning.