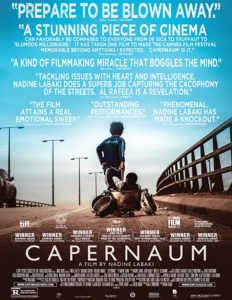 "Capernaum in French is used usually in French literature to signify chaos, to signify hell, disorder," according to Lebanese filmmaker Nadine Labaki, director of this emotionally wrenching film. At the center of this hell is a little boy named Zain (Zain Al Rafeea), a young Lebanese boy who is exploited and miserable. He's 12-years-old but looks about 8. And his world collapses when the one person that he has a loving relationship with, his 11-year-old sister Sahar (Cedra Izam), is sold off as a child bride. So he runs away from his useless parents and has to fend for himself in a very ugly world. And he finds a temporary haven with an Ethiopian woman named Rahil (Yordanos Shiferaw) and her baby son Yonas (Boluwatife Treasure Bankole), only that, too, falls apart and he ends up in jail for stabbing the "son of a bitch" who stole his sister. And it's there that he decides to sue his parents for having him. And you totally understand his reasoning.
When we meet Zain, he's working for his parents in their drug smuggling biz, while also working for their landlord delivering supplies for his grocery. He's a kid with no school, no friends, no real fun except for the time he spends with his sister.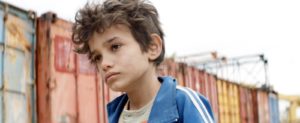 But then his parents sell her to the landlord for some chickens. And he tries to save her from it, but when he fails, he leaves home with no plan but to get away from the exploitation of his family. He ends up at an amusement park where he meets Rahil, who works on the cleaning crew. She takes him home with her, and he gets on so well with her baby son that she makes a deal with him to be the babysitter. But when she is picked up for not having valid documents, Zain and Yonas are on their own. And as much as he tries to find a solution to their homelessness, he's still just a poor child.
Capernaum is mostly populated with non-actors and there was apparently a lot of improvisation, but it's so well done that you feel that you are right there with them in their struggle to just get by in a very harsh world. It's a snapshot of the lives of the millions of people who are living on the edge: the refugees, the undocumented, the extreme poor. And telling the story through a cute and frequently foul-mouthed little boy keeps you hoping for a good outcome to a story that you know can't end well. While some are comparing it to Slumdog Millionaire and The Florida Project, it reminds me more of Truffaut's 400 Blows, one of my all time favorite films. 2018 is a year with so many great foreign films, and this one is definitely on my "best of" list. It is a bit too long, but it is riveting, and that kid will steal your heart. I highly recommend it.
[Mainstream Chick's take: My patience/tolerance for arty foreign films is apparently increasing, because I found myself really liking Capernaum, even though it moves quite slowly and is often heartbreaking to watch. I think comparisons to Slumdog Millionaire and The Florida Project are totally fair, to give you a sense of what you're in for. I'd even toss in a bit of the recent foreign film Shoplifters, which focused heavily on what makes a family in the midst of daily struggles to survive. I read that the original cut of Capernaum was about 12 hours long and it took two years to cut it down to two hours (and, as Arty Chick notes, it still feels a bit too long.) You do have to stick with it, and let yourself just tag along with Zain as he is unfairly thrust into adult responsibilities – and proves way more responsible and resourceful than the adults around him. The kid non-actor is so good that you can't help but feel for what he's going through as he is thrown one curveball after another. When he silently teared up, I did too. Capernaum gives you 'the feels' in most unexpected ways. After a while, I even got used to the subtitles. Roma is getting all sorts of kudos for its use of non-actors and its cinematography. But overall, I liked Capernaum (and Shoplifters, and The Guilty) more than Roma in the foreign film category. -hb]