Currently browsing the "
Bosnia

" tag.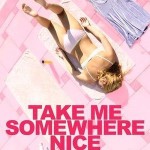 First time writer/director Ena Sendijarević is a Bosnian refugee raised in Holland and her coming-of-age road trip movie is informed by that detached perspective. It's the story of Alma (Sara Luna Zoric), still a teen, but already grappling with womanhood. She's a Dutch Bosnian who heads back to her homeland to see the father she never knew who's in the hospital dying. She's counting on her cousin Emir (Ernad Prnjavorac) to help her out, but he's got other things to do, sort of. However, his friend Denis (Lazar Dragojevic) takes an immediate interest in her, up to a point. But when neither of them will take her to see her father she hops a bus, but gets left at a rest stop, losing her suitcase and her money. And she suddenly becomes dependent on the kindness of Bosnian strangers. And as she faces one debacle after another she moves closer and closer to finding herself.
Talk about a film that's hard to watch! This Oscar nominee from Bosnia and Herzegovina tells the horrifying story of the days leading up to the 1995 massacre of 8,000+ Bosnian Muslim men and boys from the town of Srebrenica. The central character is Aida (Jasna Duricic), a school teacher from the town and also a translator for the UN peacekeeping forces there during the wars that tore apart the former Yugoslavia. When the Bosnian Serbian army rolls into town, despite the fact that the United Nations had declared it a UN safe area two years earlier, the Muslim citizens flee to the nearby UN camp looking for shelter and safety. Aida's husband and sons are among those fleeing. But as she can see from inside, the UN troops are left high and dry by the UN command in New York, and they're outgunned by Serbian Gen. Ratko Mladic (Boris Isakovic) and his army. And as the time ticks by Aida does everything she can to save her family, though if you know the history, you know it cannot end well.