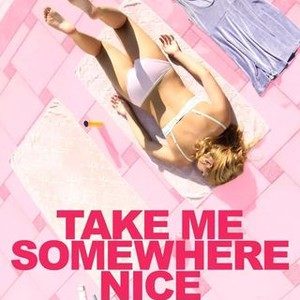 First time writer/director Ena Sendijarević is a Bosnian refugee raised in Holland and her coming-of-age road trip movie is informed by that detached perspective. It's the story of Alma (Sara Luna Zoric), still a teen, but already grappling with womanhood. She's a Dutch Bosnian who heads back to her homeland to see the father she never knew who's in the hospital dying. She's counting on her cousin Emir (Ernad Prnjavorac) to help her out, but he's got other things to do, sort of. However, his friend Denis (Lazar Dragojevic) takes an immediate interest in her, up to a point. But when neither of them will take her to see her father she hops a bus, but gets left at a rest stop, losing her suitcase and her money. And she suddenly becomes dependent on the kindness of Bosnian strangers. And as she faces one debacle after another she moves closer and closer to finding herself.
When we meet Alma, she's shopping for clothes with her mom, still in the Netherlands. She tries on a blue dress and her mom says the other color is better. "I'll take them both," she replies.  That's who she is. But when she gets to Bosnia, that breezy, pampered girl has a wake up call. No one is there to take care of her. Her clothes are in a suitcase she can't open so she spends all her time in that blue dress. And when the suitcase disappears, she has no choice, though she gets creative with her wardrobe later. Alma wanders though the city and rural  landscapes of Bosnia and Herzegovina meeting a colorful array of characters, having some fun, and some not so fun, while coming to terms with her tenuous attachment to the place.
Alma keeps herself moving forward with equal parts lust and adventure-seeking. Her self-identity is constantly shifting. She's a teen or a woman. Dutch or Bosnian. A romantic or a pragmatist. A brunette or a blonde. After her abandonment and lost wandering, her cousin and his friend come back into her life in a most unexpected way and finally there is some real bonding. And through it all Alma finds a strength in herself she never knew she had. As bad a vacation as one could imagine turns out to be just what she needs.
This film kept reminding me of Jim Jarmusch's early work with its rather deadpan characters wandering from place to place, getting in to various kinds of trouble but always moving on.  It could also be called "Lost in Bosnia" as Alma felt akin to Scarlett Johannson in Lost in Translation, unmoored from anything familiar and looking for someplace or something to hold onto. If that's your kind of film, you'll enjoy this one.
In Bosnian and Dutch with English subtitles. In theaters and virtual cinemas Friday, June 11th.