Currently browsing the "
Brooklyn Decker

" tag.
I wasn't blown away by Battleship, though a lot of stuff does blow up real good! So if you like explosions galore and a bloodless (though high) body count, then Battleship might be a 'hit'. Otherwise, consider it a 'miss'. B-10! Get it?
Battleship is "inspired by" the classic naval combat board game by Hasbro. That explains why there's no real plot or character development. Just your good ol' fashioned heroes (go Navy!) and villains (Aliens, go home!).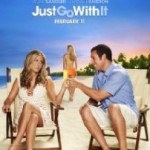 I was soooo ready to hate this movie. But I didn't. I actually found it quite entertaining in a mindless, escapist, chick flick romantic comedy sort of way.