I was soooo ready to hate this movie. But I didn't. I actually found it quite entertaining in a mindless, escapist, chick flick romantic comedy sort of way.
Adam Sandler plays Danny, a single, basically good-hearted Beverly Hills plastic surgeon who's lied his way through a bevy of beauties by pretending to be in a bad
marriage. The lie catches up with him though when he falls in love/lust with Palmer, a hot young elementary school teacher played by Sports Illustrated swimsuit model Brooklyn Decker.
When Palmer insists on meeting Danny's soon-to-be-ex-wife, he ropes his trusted assistant Katherine (Jennifer Aniston) into playing the part. Danny bankrolls Katherine's transformation into what's supposed to be a bitchy bombshell – but the lies keep backfiring – and the situation snowballs out of control (comically, of course).
Katherine's two kids become willing accomplices in the fake family drama and the whole brood ends up vacationing together in Hawaii.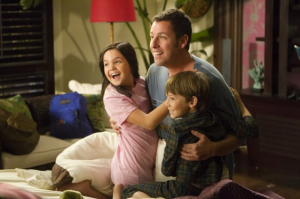 Young actors Bailee Madison and Griffin Gluck are the real scene-stealers in this movie, especially Madison. She's definitely one to watch in the future.
In a somewhat surprising but ultimately satisfying casting twist, Nicole Kidman shows up as Katherine's long-time nemesis, Devlin.
Just Go With It is silly, predictable, gross, funny, and formulaic – and it should do just fine at the box office. Keep your expectations low (as I did) and you just might be pleasantly surprised – even if you're not a die-hard Sandler or Aniston fan.
By the way, Just Go With It is actually a remake of a 1969 movie called Cactus Flower, starring Walter Matthau, Ingrid Bergman and Goldie Hawn. I may have to check it out – for comparison's sake, of course. Stay tuned.