Currently browsing the "
Celeste and Jesse Forever

" tag.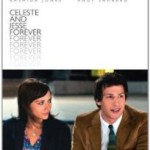 "It's the perfect break-up." That's what Celeste and Jesse tell their friends and themselves. They were married and now they're getting divorced but they say they're still "best friends." Can it work? As a movie, it certainly does. Celeste and Jesse Forever isn't really a rom-com, but it will make you laugh and it's certainly better than any actual rom-com I've seen recently. Plus, it's got a lot of heart, without a lot of the standard chick flick cliches.