Posted by Ellen Carl aka Adventurous Chick on August 3, 2012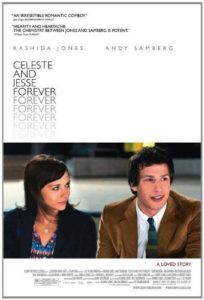 "It's the perfect break-up." That's what Celeste and Jesse tell their friends and themselves. They were married and now they're getting divorced but they say they're still "best friends." Can it work? As a movie, it certainly does. Celeste and Jesse Forever isn't really a rom-com, but it will make you laugh and it's certainly better than any actual rom-com I've seen recently. Plus, it's got a lot of heart, without a lot of the standard chick flick cliches.
Rashida Jones — the other chick from Parks and Recreation — and Andy Samberg — the guy from the SNL digital shorts — play Celeste and Jesse. They were married young and as the years went on Celeste outgrew Jesse or so she thought. She's now a very successful marketing executive/trend forecaster. He's still a struggling artist. They're in different places in their lives but they still want to hang out together. So he lives in the guest house/studio in her backyard and they still see each other every day. It seems to be working for them until — boom, he ends up in a very serious relationship with another woman.
So Celeste is forced to move on — for real this time. That launches her on an awkward but very believable journey to get over the relationship with Jesse and start dating again. It's a journey of embarrassing moments, bad dates, and self-doubt that her well-meaning friends push her into/help her through. Jones is fantastic as Jesse and Samberg is really good too, which I was pleasantly surprised by given his SNL history. I didn't know he had it in him. They, and the fantastic script (co-written by Jones) make Celeste and Jesse real and relatable.
This is a smaller indie flick that's only opening in limited release. But if it's in your city, it's well worth the price of admission, especially if you're getting sick of the standard summer blockbuster and animated kid movie fare. Otherwise, put it on the Netflix queue when it becomes available.
1 Trackbacks/Pingbacks
Leave a comment