Currently browsing the "
Charles Dickens

" tag.
Some stories seem to attract actors and directors over and over, year after year. Charles Dickens' semi-autobiographical "David Copperfield" is one of those. It's been adapted for the screen at least 14 times, beginning in the silent era, as features, series, animation, and probably the most famous version by George Cukor (My Fair Lady, The Philadelphia Story) with W.C Fields as Mr Micawber! So you might think it didn't have anything new to offer. You'd be wrong. In the hands of Armando Iannucci (The Death of Stalin, In the Loop), the story takes a decidedly humorous and absurdist turn and breaths a fresh life into the classic tale of an orphan's coming-of-age in Victorian England.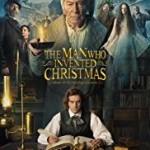 God bless us, everyone. There's more than one family-friendly movie worth catching this holiday season. First, there was Wonder, a heartwarming drama based on the best-selling book from 2012. And now there's The Man Who Invented Christmas, a biopic of sorts about Charles Dickens and the creation of his 1843 classic novella "A Christmas Carol" where Scrooge discovers the true meaning of Christmas after late-night visits from the ghosts of Christmas Past, Present and Yet to Come. The story's been adapted many, many, many times for stage and screen. So what makes this film worth seeing when you kind of know how it all plays out? Dan Stevens (Beauty and the Beast, Legion, Downton Abbey) and veteran actor Christopher Plummer – especially Christopher Plummer – and a script infused with warmth and wit.