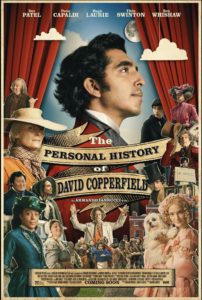 Some stories seem to attract actors and directors over and over, year after year. Charles Dickens' semi-autobiographical "David Copperfield" is one of those. It's been adapted for the screen at least 14 times, beginning in the silent era, as features, series, animation, and probably the most famous version by George Cukor (My Fair Lady, The Philadelphia Story) with W.C Fields as Mr Micawber! So you might think it didn't have anything new to offer. You'd be wrong. In the hands of Armando Iannucci (The Death of Stalin, In the Loop), the story takes a decidedly humorous and absurdist turn and breaths a fresh life into the classic tale of an orphan's coming-of-age in Victorian England.
Dev Patel (Slumdog Millionaire, Lion) is wonderful as David, a young man burdened with trial after trial who is able to turn it all into fodder for his writing career. The superb cast includes, Peter Capaldi (In the Loop, "Dr.Who") as Mr. Micawber, Hugh Laurie ("House", "The Night Manager") as Mr. Dick and Tilda Swinton (Snowpiercer, The Grand Budapest Hotel) as Betsey Trotwood. Though the story is pretty much the same old, same old, the telling is anything but.
The film is bookended by scenes of David reading his story from a lectern, having become a respectable writer. It begins with his birth and continues through the highs and lows of his upbringing. He's happy with his widowed mother. Then she marries a lout and he's sent away to work. But he meets the kind Micawber family who take care of him for a bit, until they're thrown into the poor house. Then he tracks down his somewhat loopy Aunt Betsy and her very loopy cousin Mr. Dick and is sent to a good school where things seem to be going very well and he's treated like a gentleman. There he meets his bestie, the upperclass Steerforth (Aneurin Barnard, The Goldfinch, Dunkirk), and the cloying antagonist  Uriah Heep (Ben Whishaw, "Fargo", Mary Poppins Returns). But of course all is not rosy.
David has A LOT of ups and downs, but he keeps his sanity and hope by writing things down for later. The funny moments and the absurd. And there are plenty of those. When he's first sent away by his mother, it's to his beloved housekeeper Peggoty's family place in Yarmouth, where they live in an upside down boat on the beach. He meets his Aunt Betsy as she's loudly chasing donkeys from her yard, something she continues to do frequently. The cousin who lives with her, Mr. Dick, is obsessed with King Charles I and the whereabouts of his severed head.  And Mr Micawber keeps turning up, always needing a hand but offering David his heart.
There are a lot more threads. After all the book is over 600 pages. So taking all that material and finding the pieces that make up this two hour telling was a feat in itself. Fortunately, it moves along at a fast clip, zigging and zagging through David's young life. And it's ultimately a total feel good flick. Dev Patel deserves huge kudos for his winning performance. In fact, the whole cast shines. This is a great family viewing flick, streaming just in time for the holidays! See it!!