Currently browsing the "
Hugh Laurie

" tag.
Some stories seem to attract actors and directors over and over, year after year. Charles Dickens' semi-autobiographical "David Copperfield" is one of those. It's been adapted for the screen at least 14 times, beginning in the silent era, as features, series, animation, and probably the most famous version by George Cukor (My Fair Lady, The Philadelphia Story) with W.C Fields as Mr Micawber! So you might think it didn't have anything new to offer. You'd be wrong. In the hands of Armando Iannucci (The Death of Stalin, In the Loop), the story takes a decidedly humorous and absurdist turn and breaths a fresh life into the classic tale of an orphan's coming-of-age in Victorian England.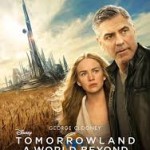 Oh George, you're killin' me! I really wanted to love this movie, or at least like it a lot. Instead, I liked it a little. It's certainly a fine choice for a family flick this long holiday weekend; It has a commendable message, and a decent shot of girl power. But the two-hour journey borders on bland and boring, despite the appearance of flying saucers, jet packs, magical pins, George Clooney, Hugh Laurie, and glimpses of a Disney-utopia-esque place known as "Tomorrowland" that exists somewhere in time and space.