Currently browsing the "
Chef

" tag.
Pig is a quest film and a really good one at that. Nicolas Cage plays Rob a self-exiled hermit in the Oregon wilderness whose beloved truffle-hunting pig is violently abducted, forcing him to leave his isolated cabin to track her down in the city and return to a world he turned his back on years before. He's aided by young Amir (Alex Wolff, Hereditary), his truffle buyer who knows the lay of the land once they're back in town. Their search takes them deep into the belly of the Portland culinary world where Rob was once a star, and he's able to trade on that reputation. Cage turns in one of his best performances in years as the weary and wounded chef in this surprisingly touching drama from first time director Michael Sarnoski, who's someone I'll be following.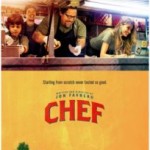 Written, directed and starring Jon Favreau, Chef is the feel good foodie flick du jour. Favreau stars as Carl Casper, a formerly hot young chef who's lost his mojo, but finds his way back by starting from scratch. It's a fun movie with a lot of heart and a fabulous cast. Besides Favreau, it boasts Robert Downey Jr., Scarlett Johansson, Dustin Hoffman, John Leguizamo, Sofia Vergara, and a host of other top shelf talent. For audiences hungering for a change of pace from the special effects driven films out there, this is the ticket!