Currently browsing the "
Constance Wu

" tag.
Can/will Hustlers appeal to both men and women? I'm not sure. It's a film about friendship and sisterhood, payback and… pole dancing. A stimulating crime drama served up with a side of T&A. And yes, it's a perfect vehicle for Jennifer Lopez (Second Act, Maid in Manhattan) to showcase her assets. Does her performance live up to all the hype about a potential Oscar nom? I wouldn't go that far – at least not yet. It's way too early in awards season, with many strong movies and performances likely to emerge. Lopez does work the pole – and the drama – with a tremendous amount of flexibility and flair. But Hustlers itself is not an OSCAR movie. It's like The Wolf of Wall Street meets Striptease (Demi Moore worked the pole in that rather forgettable flick from 1996). Hustlers includes the standard elements of most 'true crime' dramas: Money. Greed. Sex. Drugs. Excess. Revenge. Friendship. Betrayal. It also has shades of Magic Mike, i.e. there's more to the movie than meets the eye(candy). The main characters have some depth.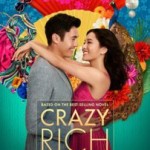 Cue up the sequel. I suspect Hollywood will see enough green from Crazy Rich Asians to justify a speedy greenlight for a second (and third) film based on the popular trilogy by Kevin Kwan. I haven't read the book(s) but that didn't hamper my enjoyment of the movie, which is basically a conventional romantic dramedy that happens to feature a majority Asian cast playing a variety of well-drawn characters, several of whom are crazy rich. It's all very Dynasty-esque, tackling love, romance, pettiness, sabotage, scorn, humor, fashion, palatial digs and a lot of fantastic-looking food. The story revolves around Rachel Chu (Constance Wu, TV's Fresh Off the Boat), a bright, attractive and very down-to-earth Asian-American Economics Professor who agrees to accompany her bright and charming boyfriend Nick Young (newcomer Henry Golding) to his best friend's wedding in Singapore. En route she discovers that her longtime beau comes from money – lots and lots of money.