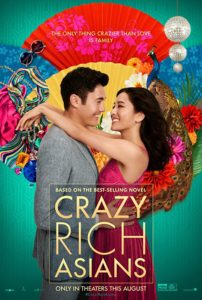 Cue up the sequel. I suspect Hollywood will see enough green from Crazy Rich Asians to justify a speedy greenlight for a second (and third) film based on the popular trilogy by Kevin Kwan. I haven't read the book(s) but that didn't hamper my enjoyment of the movie, which is basically a conventional romantic dramedy that happens to feature a majority Asian cast playing a variety of well-drawn characters, several of whom are crazy rich. It's all very Dynasty-esque, tackling love, romance, pettiness, sabotage, scorn, humor, fashion, palatial digs and a lot of fantastic-looking food. The story revolves around Rachel Chu (Constance Wu, TV's Fresh Off the Boat), a bright, attractive and very down-to-earth Asian-American Economics Professor who agrees to accompany her bright and charming boyfriend Nick Young (newcomer Henry Golding) to his best friend's wedding in Singapore. En route she discovers that her longtime beau comes from money – lots and lots of money.

Money can't buy you love, but in this case, it sure can make things complicated. Nick's formidable mother Eleanor (Michelle Yeoh, Crouching Tiger, Hidden Dragon) sees Rachel as an unsuitable match for her son and sets out to undermine their relationship. She's aided by a bevy of jealous socialites who aren't too keen on Rachel – a native New Yorker raised by a single mom who emigrated from China- taking one of Singapore's most sought-after bachelors off the market.
Fortunately for Rachel, her best friend from college, Peik Lin (breakout actress/rapper Akwafina, Ocean's 8) lives in Singapore and is wise to the ways of the infamous Young clan. Peik's got Rachel's back, and shines in the comedic buddy sidekick role.
Crazy Rich Asians is generating a lot of buzz for its Asian cast and story, but it's got universal chick flick appeal, offering a solid mix of romance, drama, opulence, culture clashes, and comedy. And it easily sets the stage for "China Rich Girlfriend" (aka Crazy Rich Asians 2) exploring what happens when Rachel discovers her birth father. The third book in the trilogy is called "Rich People Problems." Can't wait to see what those are.