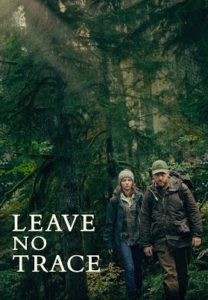 Eight years ago writer/director Debra Granik introduced us all to Jennifer Lawrence in the amazing Winter's Bone. She's finally made another movie after way too long, introducing us to the next young actress we should probably keep an eye on, Thomasin McKenzie, who plays 13-year-old Tom in this gem of a film. Like Winter's Bone, Leave No Trace is not about people living conventional lives with ordinary choices to make. Tom and her dad Will (Ben Foster, Hell or High Water) have chosen to live out in the woods in an Oregon park, taking care of themselves, and living a fairly isolated but full life together. But when they're discovered by rangers and social services gets involved, the question of what is home and what is normal is pushed to the fore.
Will is a vet with PTSD. That much is clear. And living off the grid seems perfect for him. He's raised his daughter to be comfortable out there and capable. But after they're kicked out of the forest and given a home to live in, Tom gets her first taste of a social life, and she likes it. But Will can't take four walls, and they soon flee their gilded cage to find a new home. Some of their journey is bleak and you wonder if they will survive, and how far Tom will go to please her father. Tom is changed by experiencing life with more people, but Will just wants to get away from them again. When he has a nasty accident and is forced to accept help from a group of unconventional folks, Tom hopes they can stop searching for another home. But Will cannot stay.
Leave No Trace demonstrates Granik's deep understanding of community and her amazing ability to illicit incredibly authentic performances from young actresses. The film is an adaptation of Peter Rock's YA novel, "My Abandonment," itself based on a true story. What's great about the script is that it makes no judgments about Will's life choice with his daughter, nor does Tom. There's real love between them, and Tom understands Will's frailty, but she comes to realize that she has to live the life she chooses. It's a sad and beautiful film about home and family and I highly recommend it.