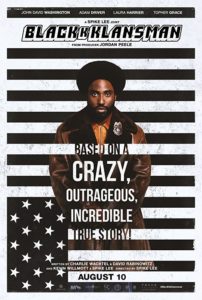 Spike Lee's latest joint is about as far fetched as you could imagine. Set in the early 70s, Ron Stallworth (John David Washington) becomes Colorado Springs, Colorado's first African-American cop. While still a rookie, he infiltrates the KKK and fools Grand Wizard David Duke (Topher Grace) into welcoming him into the fold. But it's a true story and one that resonates all the more loudly in our current political world with David Duke and his minions then as now proclaiming "America First." It's a deadly serious, yet at times hilarious story, and it's scary how much has not changed in the intervening years.
The film opens with Alec Baldwin delivering a racist screed replete with Birth of a Nation and Gone With the Wind footage. It's who we're up against. Elsewhere, rookie cop Stallworth hatches a plan to take on the KKK when he sees a small ad in the local paper. That he takes it upon himself to call the number and talk about his hatred of blacks and Jews with the local klan leader is audacious. Of course when they ask to meet, he has a problem, but one that his fellow officer Flip Zimmerman (Adam Driver), himself a non-practicing Jew, takes on. Meanwhile, the cops are keeping an eye on the local Black Power movement, and send in Stallworth undercover to report on their activities, beginning with a talk by Kwame Ture (Corey Hawkins), a.k.a. Stokely Carmichael. There he meets the beautiful Patrice Dumas (Laura Harrier), president of the Black Student Union at Colorado College. He has to be undercover with her, less she discovers he is "a pig," in her words. But their conversations about how to change the system are pure Spike Lee — difficult politics at a personal level. Is it better to take racial justice on head-on or work within the system?
The film cuts back and forth between the developing relationship Stallworth/Zimmerman and the local Klansmen are forging, and Stallworth and Patrice's philosophical discussions, local black empowerment organizing, and the growing threat of violence. The Klansmen are mostly ridiculously stupid, but their non-stop use of racist slurs and threats of violence keep you from feeling any sympathy for their delusional existence, even as you laugh at them. And Zimmerman finds himself more and more in peril the deeper he gets. At it's heart BlackkKlansmen is an indictment of America, a repudiation of the current administration, and a painful cry to finish the work that was started so long ago. It's a brilliant film, probably Lee's best since Do The Right Thing. The cast is terrific, the script biting, and the pacing perfect. I highly recommend this one to wide audiences.