Currently browsing the "
Daisy Axon

" tag.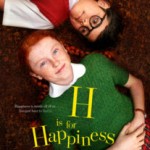 Some weeks are more crowded than others with viewing options so H is for Happiness almost escaped my radar. Don't let that happen to you! The synopsis – and my craving for a feel-good film – reeled me in: "Set in the colourful Australian coastal town of Albany, H IS FOR HAPPINESS is a classic feel-good film for all ages that will make you laugh, cry, and cheer with delight. Based on the award-winning book 'My Life as an Alphabet' by Barry Jonsberg, it is the genuinely heart-warming and unflinchingly honest story of one twelve-year-old's determination to bring her family back from the brink and spark happiness in their lives."
That pretty much sums it up. H is for Happiness is a delightful movie, starring two kids with extremely bright futures in the acting biz.