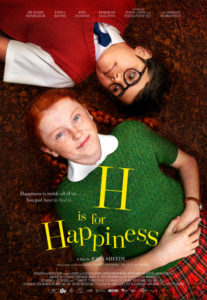 Some weeks are more crowded than others with viewing options so H is for Happiness almost escaped my radar. Don't let that happen to you! The synopsis – and my craving for a feel-good film – reeled me in: "Set in the colourful Australian coastal town of Albany, H IS FOR HAPPINESS is a classic feel-good film for all ages that will make you laugh, cry, and cheer with delight. Based on the award-winning book 'My Life as an Alphabet' by Barry Jonsberg, it is the genuinely heart-warming and unflinchingly honest story of one twelve-year-old's determination to bring her family back from the brink and spark happiness in their lives."
That pretty much sums it up. H is for Happiness is a delightful movie, starring two kids with extremely bright futures in the acting biz.
Daisy Axon (Judy & Punch) delivers a winning performance as Candice Phee, a cheery freckle-faced redhead with boundless optimism and a penchant for taking everything quite literally, often to the chagrin of family, teachers, and schoolmates who think she's just plain weird. Candice finds a kindred spirit in new classmate "Douglas Benson from Another Dimension" (Wesley Patten). Both are smart, witty, oddly charming, and endearingly precocious.
The main plot revolves around Candice's efforts to help her parents (Richard Roxburgh, Emma Booth) heal after a heartbreaking loss, and to bring together her father and his brother "Rich Uncle Brian" (Joel Jackson) after years of estrangement over a business dispute.
As Candice turns 13 – what she calls "completing apprenticeship as a child" so she can now "do teenager-ish things" – she shifts her determination into overdrive, with some funny, sad, scary and ultimately heartwarming results.
H is for Happiness is the first feature film directed by Australian theatre director John Sheedy who says he drew inspiration from the works of John Hughes, Pedro Almodovar and Wes Anderson. That alone should provide a strong hint to the combination of humor, pathos and quirk that permeates the film. He also surrounded himself with an all-female production team who helped ground Candice's storybook world in just enough realism and naturalism to assure its universal appeal.
H is for Happiness is sweet without being sappy and tackles some serious themes without being morbid. It's a family-friendly film that scores bonus points for a pint-size rendition of the Dolly Parton-Kenny Rogers duet "Islands in the Stream," and the antics of a miniature horse. Enjoy.