Currently browsing the "
Dana Gaier Elsie Fisher

" tag.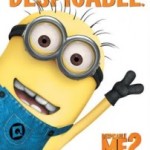 Despicable Me 2 serves its purpose – entertaining the kids. It's bright and colorful and quirky and cute. Adults may be a tad disappointed at the lack of any real narrative or drama, but all in all, the movie is more than fun enough to justify 98 minutes in an air-conditioned theater.