Currently browsing the "
Demián Bichir

" tag.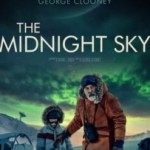 Not sure what George Clooney thought he was making, but this post-apocalyptic drama is a slog. In it a heavily bearded Augustine Lofthouse (Clooney) is left behind at an arctic research outpost by choice after everyone else evacuates. He's got only one goal and that is to alert Sully and the rest of the astronauts on a distant space mission that they can't come back to earth because an unnamed disaster has made it uninhabitable. But he can't reach them. And then he finds a cute little girl named Iris (Caoilinn Springall) who's been left behind and the two of them have to make it to another research station across the unforgiving frozen landscape to get to a stronger antenna. Meanwhile, up in space Sully (Felicity Jones) and her crew that consists of her husband Tom (David Oyelowo), Sanchez (Demian Bichir), Maya (Tiffany Boone), and Mitchell (Kyle Chandler) are happily heading home from a mission to scout out a habitable planet, oblivious to what's happened back home, but growing more concerned each day that they aren't able to reach NASA – or anyone else for that matter.
If there was one surprise in the 2011 Oscar nominations, it was Demián Bichir's nod for Best Actor in a really small film called A Better Life. I'm not sure how many people could have seen this movie. It didn't even gross $2 million. To be fair, it was named one of the top ten films by the National Board of Review and Bichir was nominated as Best Actor by the Screen Actors Guild and the Independent Spirit Awards. But it is refreshing that this little indie flick did not fly under the Academy's radar. And that they appreciated Bichir's outstanding performance.