If there was one surprise in the 2011 Oscar nominations, it was Demián Bichir's nod for Best Actor in a really small film called A Better Life. I'm not sure how many people could have seen this movie. It didn't even gross $2 million. To be fair, it was named one of the top ten films by the National Board of Review and Bichir was nominated as Best Actor by the Screen Actors Guild and the Independent Spirit Awards. But it is refreshing that this little indie flick did not fly under the Academy's radar. And that they appreciated Bichir's outstanding performance.
A Better Life is the story of an undocumented Mexican father and his teenage son living in East Los Angeles. Single dad Carlos played by Bichir works as a gardener and is struggling to take care of his son Luis (José Julián), though they don't see all that much of each other. Luis is busy being a teenager, hanging with his friends who are headed towards becoming gang bangers, while Carlos works long hours around rich white people in Beverly Hills and Malibu. When his partner decides he's ready to retire back in Mexico and sells him his truck with all his tools, Carlos grabs the chance to move up in the world and give his son some real security. But when the truck and tools are stolen, Carlos and Luis are forced to work together to hunt them down.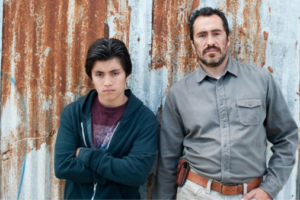 While the script is at times a bit heavy handed with its message about the the class divide and the injustices of the immigrant experience, the film really belongs to Carlos. His love of his child informs everything he does, and when it seems that he will be separated from Luis, you know he will do whatever he has to to get back to him. A Better Life was directed by Chris Weitz who directed The Twilight Saga: New Moon, but also another touching male bonding film, About a Boy. He knows how to fill very small scenes with meaning. And Demián Bichir's performance is exceedingly earnest, rivaling Jean Dujardin (The Artist) for expressiveness, though in a much more subtle way. The film definitely has an indie vibe – character driven with a story intimate in scope. It is worth seeing. It may or may not get another life in theaters now that it has the nomination, but for this movie DVD viewing would be fine. Bring tissues.

If you watch Weeds, you will recognize Demián Bichir as Esteban Reyes, mayor of Tijuana, drug boss, and father of Nancy's baby.
No Comments Yet
You can be the first to comment!
Leave a comment