Currently browsing the "
Derek Cianfrance

" tag.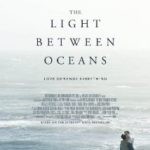 Some people (particularly those who hate melodrama) may scoff at the manipulative nature of The Light Between Oceans, with its sweeping score and dramatic pans of crashing waves and remote landscape; but for fans of a solid romantic drama with a two-kleenex tearjerker quotient, The Light Between Oceans is worth the view.
I really like Ryan Gosling. And I really like Bradley Cooper. But I just did not like this movie, which actually felt more like three movies. I kept waiting to see how all the pieces would fit into place. But by the time they did (140 minutes later), I really didn't care anymore – about the plot or the characters. The 'first' movie features Ryan Gosling as Luke, a heavily-tattooed, chain smokin' motorcycle stunt rider who has a brief fling with a waitress (a bra-less Eva Mendes) while passing through Schenectady, in upstate New York. A year later, Luke discovers that she's had his son. He decides to give up the road to try his hand at fatherhood, and ends up becoming a professional bank robber in order to support his kid. It doesn't end well.