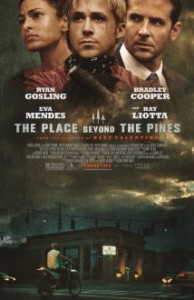 I really like Ryan Gosling. And I really like Bradley Cooper. But I just did not like this movie, which actually felt more like three movies. I kept waiting to see how all the pieces would fit into place. But by the time they did (140 minutes later), I really didn't care anymore – about the plot or the characters.
The 'first' movie features Ryan Gosling as Luke, a heavily-tattooed, chain smokin' motorcycle stunt rider who has a brief fling with a waitress (a bra-less Eva Mendes) while passing through Schenectady, in upstate New York. A year later, Luke discovers that she's had his son. He decides to give up the road to try his hand at fatherhood, and ends up becoming a professional bank robber in order to support his kid. It doesn't end well.

The 'second' movie centers around an ambitious rookie cop named Avery (Bradley Cooper) who is hailed a hero for bringing down Luke. He's then hailed a hero for bringing down his corrupt police department. And then he becomes an assistant District Attorney with aspirations for higher office. He also becomes an emotionally-absent father to his wayward son A.J., who happens to be the same age as Luke's son Jason…
And that brings me to the 'third' movie. Fast forward 15 years and Avery's son meets Luke's son at school. That doesn't end well either.
All this adds up to one dark, plodding movie about intertwining fates and the sins of the father and all that sort of stuff. The performances are solid. But the movie is just no fun. At all.
I can forgive dark, emotional and raw drama when the story and the characters really draw you in. Director Derek Cianfrance pulled it off in 2011 with Blue Valentine (with the help of Gosling and Michelle Williams). But this time, he misses the mark. Sorry Gosling/Cooper fans! Wish I had better news for ya.
Speaking of news – on a more personal note: The real highlight for me was hearing what I'm pretty sure was CNN Headline News in the background during one particular scene. Had to be back in the day when there was an actual "news wheel" with "Dollars and Sense" at 15 and 45 minutes past the hour. My old colleagues at Headlines may want to check it out just for that – three seconds of early 1990s flashback. I hope former anchor Chuck Roberts gets a check for the uncredited use of a snippet of his voice.
1 Comments
Leave a comment