Currently browsing the "
diablo cody

" tag.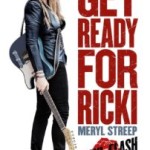 I had to see this flick, cause you know — Meryl. And there was also Dr. Noah Drake, I mean Rick Springfield of "Jessie's Girl" fame. How bad could it be? The good news is that it isn't as bad as I'd heard. But it really isn't what it could have been. Meryl plays the title character Ricki Rendazzo, formerly Linda Brummel of Indianapolis, now a long-in-the-tooth rock and roll singer with her own band called The Flash playing nightly at a locals bar in Tarzana, California. By day she is a cashier at a health food supermarket, and she can barely make ends meet, but she is content with her life. Then she gets a call from her ex. Her daughter is in trouble and she needs to come back to help. She hasn't been there for her kids in years, so what could go wrong?
Young Adult has been out for a little while now, but it's definitely worth seeing if it's still in a theater near you or renting when it becomes available. Just be forewarned it is a dark comedy, emphasis on dark. Seriously, from the trailers, I expected this movie to be funnier. They're totally marketing this one as a comedy. But it's much deeper and more cynical than the trailer suggests. Not that it's a bad thing. It just wasn't what I thought I was going to see.