Currently browsing the "
Diane Kruger

" tag.
What a great festival! It's my first year at Middleburg, now in its 5th year, but I was truly impressed by their selections. It's a small festival, as yet pretty unknown, but not for long, I suspect. In all I went to 14 films in just over 3 days. It was exhausting, but I thoroughly enjoyed it. Films included here are: Three Billboards Outside Ebbing, Missouri ; Mudbound; Last Flag Flying; Faces/Places; I, Tonya; In the Fade; The Divine Order; Lady Bird; Joan Didion: The Center Will Not Hold; Meltdown; Loveless; Darkest Hour; The Other Side of Hope; and Hostiles.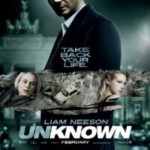 If you're a fan of Liam Neeson and you like movies like The Bourne Identity, then you really can't go wrong with Unknown. It's a classic psychological thriller that leaves you wondering what's what for a solid, fast-moving two hours.