What a great festival! It's my first year at Middleburg, now in its 5th year, but I was truly impressed by their  selections. It's a small festival, as yet pretty unknown, but not for long, I suspect. In all I went to 14 films in just over 3 days. It was exhausting, but I thoroughly enjoyed it. Films included here are: Three Billboards Outside Ebbing, Missouri ; Mudbound; Last Flag Flying; Faces/Places; I, Tonya; In the Fade; The Divine Order; Lady Bird; Joan Didion: The Center Will Not Hold; Meltdown; Loveless; Darkest Hour; The Other Side of Hope; and Hostiles.
MY TOP 3 PICKS
Three Billboards Outside Ebbing, Missouri is dark. It's funny. And it's brilliant filmmaking all around. Oscar nods await, no doubt. It's the story of Mildred Hayes who is righteously pissed that local law enforcement hasn't caught her daughter's killer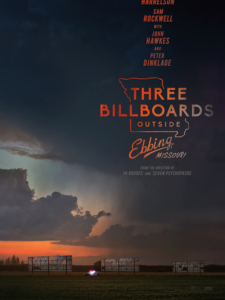 after 7 months, so she puts her anger on display on three billboards eliciting an immediate reaction from the whole town – some with her, some not, especially since she singles out the town's beloved Sheriff Willoughby (Woody Harrelson). One of his deputies (Sam Rockwell) who has anger management issues of his own takes it as a slap to the whole department and retaliates, and it just escalates from there. While the daughter's unsolved murder is the catalyst, the story is really more character driven. It's about a small town full of wounded souls all dealing with their pain in the only ways they know how. Frances McDormand is simply amazing! And Woody Harrelson and Sam Rockwell give great performances, too. But the film's ultimate success derives from an incredible script that's funny, and tragic, and raw. I loved writer/director Martin McDonagh's 2008 film, In Bruges. But I think I may like this one even more.
Mudbound won the audience award at the festival and it's easy to see why: great performances in a tragic epic of two families, one black and one white, in the Deep South in the 1940s. The film confronts race head on as the white McAllan family buys a farm and interacts with the Jacksons, a black share cropper family who's been there for generations. The movie's standout performance comes from Mary J. Blige who plays Florence, the mother of the Jackson family. The weight of everyone is on her's shoulders: her son who is at war, her husband who must abide daily indignities, the white family's illnesses and needs, and her own sense of justice for her family. The storylines weave between the two struggling families, but the racial tensions come to a head when Ronsel Jackson returns from a decidedly less racist Europe to a town still mired in violent hatred. Jason Mitchell as Ronsel give the film's other stellar performance. Ronsel is befriended by Jamie McAllan, brother of the farm owner, who has also just come back from the war. These two young men's relationship upsets the accepted order and everyone is affected by the end. It's is a beautifully shot and very timely film.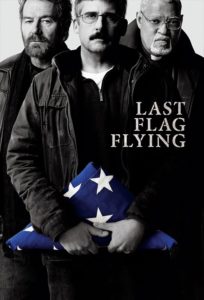 Last Flag Flying was a total surprise to me. I was expecting a somber buddy flick, but laughed my butt off half the time. It's the story of a reunion of three Viet Nam vets. One of their sons has died in Iraq, and he needs his old buddies there with him for support as he receives and escorts his son's body home from Dover AFB. It stars Laurence Fishburne as the stuffy Reverend Richard Mueller, Bryan Cranston as Sal, a womanizing bar owner, and Steven Carell as Doc, the father of the dead soldier. They haven't seen each other in decades and the Reverend is not in a hurry to get back together with a couple of men he knew back in his wild days, but their road trip reunion turns out to be touching and hilarious. Cranston hits it out of the park with his foul-mouthed jokester, but the ensemble works very well together. It's a bit long, but I wasn't ever bored.
I ALSO REALLY LIKED
Faces Places (Visages, villages) is a delight. An 80-something-year-old New Wave film director takes an art filled road trip around France with a famous young muralist. It's is a film like no other — a buddy film, a travelogue, an art documentary, and a brilliant performance art piece. See my full review here.
I, Tonya is a darkly, hilarious retelling of the Tonya Harding story that has you rooting for Tonya by the end. Bad mom of the year award goes to Allison Janney as Tonya's mom LaVona Golden, a role that will probably earn her an Oscar nod, but Margot Robbie deserves a lot of praise, too, for her portrayal of Tonya as a tragic girl looking for validation in all the wrong places. The film paints Tonya as the victim first of a horrifying mom, then of husband Jeff Gillooly and his nut-job pal Shawn Eckhardt, and finally the press and courts. It's clear that Tonya is a great skater, but she gets bad marks because of her white trash style. Then she falls for a guy who abuses her. And just when she's about to be vindicated and ascend to the heights she knows she deserves, the whole Nancy Kerrigan knee thing happens and it points to her. But, the film tells us, she didn't have anything to do with it. It's funny and sad, and ultimately, who knows how true any of it is? But it is a damn fine movie. (I'd love to know how Nancy Kerrigan feels about it.)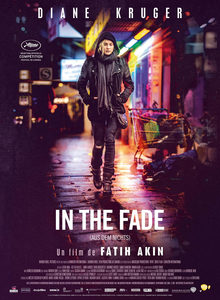 In the Fade (Aus dem Nichts) is intense! It stars Diane Kruger as Katja, a young woman whose husband and adorable son are killed in a bombing. That her husband was an Arab with a criminal record makes the authorities look in the wrong direction for the perpetrators. But when the people who did it are found, they turn out to be neo-Nazis who targeted the neighborhood because of its large immigrant population. There is all kinds of evidence, and Katja even saw the woman plant the bomb, so she puts her faith in the justice system. But when the courts fail her, she's got no choice, and nothing left to lose, and she's out for revenge. Kruger's transition from numbed pain to soul crushing sorrow to hope to outrage to resolve is masterful.  It's no surprise that this performance won her the Best Actress prize at the 2017 Cannes Film Festival, and that the film is Germany's 2018 Oscar entry.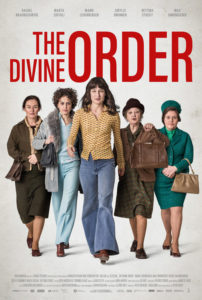 The Divine Order (Die göttliche Ordnung) tells the story of women's suffrage in Switzerland. I had no idea that the women there didn't get the right to vote until 1971. In the film, Nora (Marie Leuenberger), a young mother  who lives in a small remote village begins to feel very constricted in her marriage. She wants to take a job, but her right to work is up to her husband who doesn't think she needs to do anything but housework. But on trip into Zurich she comes across a Women's Rights group and finds out about a referendum coming up to give women the right to vote. She's inspired to join the movement, and before you know it she has the women in her town striking to force their husbands to vote for the referendum. The group of women is absolutely wonderful, including one older woman's been fighting the fight for decades. There is one hilarious scene at a consciousness raising session with a yoga guru urging the women to love their vaginas that is worth the price of admission alone. The film has been selected as Switzerland's foreign-language Oscar candidate at the 90th Academy Awards. It's a totally enjoyable #GirlPower flick!
Lady Birdis a semi-autobiographical coming-of-age story written and directed by Greta Gerwig, my favorite kooky character actress. Saoirse Ronan plays the title character, a teenager in Sacramento longing to get out into the big wide world, and getting a lot of pushback from her mom who's played by Laurie Metcalf. Lady Bird is going through a lot of the typical teenage problems: boys, best friends,  figuring out who she is, and trying to pretend she isn't from the wrong side of the tracks. And the way her mom treats her doesn't help. Her family is barely holding on and Mom is trying to be realistic, but what Lady Bird needs is some warmth and encouragement. It's a sweet and funny film. And it demonstrates that Gerwig is as adept behind the camera as she is in front of it. 
MEH! PICKS
Joan Didion: The Center Will Not Hold   Someone once said, "Beware biopics made by relatives," or something like that. This one was made by Joan Didion's nephew Griffin Dunne. It's a pretty linear telling of her literary life, which is definitely interestingly told with lots of archival footage and photos, but I was left wondering if someone who was not so close to the family might have looked at her life with a more critical lens. The film comes off as a love letter to Aunt Joan. The truth is that she refused to let anyone do a film about her and only Dunne, after begging for years, could have made it. I'm not sure there is a lot to be learned for writers looking for some inspiration from one of the 20th century's leading voices. And since she has written so much that is autobiographical, there isn't much new info. I think people who already love her work will enjoy it. And those who don't will leave feeling they don't know her. It is already on Netflix.
Meltdown pulled me in with its photography. Lynn Davis has been photographing the same town in Greenland for 30 years. And her huge prints of icebergs are stunning. The conceit of the film is that a climate scientist is interested in meeting her and talking about how global warming is destroying her subject matter. Unfortunately, many of the scenes with the two of them feel forced, as if a producer off-camera is telling them, "Now talk about climate change." The scenes on the water when she is shooting are beautiful though.
Loveless (Nelyubov)  I was kind of on the fence about this one. It is the Russian entry for the Academy Award. In it a couple that has separated and moved on are suddenly thrown together when their 12-year-old son vanishes. If there were an award for worst parents in film, these two would win. In the opening scenes, they're fighting over who will be stuck with the kid. But once he is missing, the film cuts back and forth from their search to their relationships with their new partners where the child is barely mentioned. The performances are quite good and the thriller aspect of the search is very well done, but I couldn't like the film. Maybe it was just too depressing for me.
Darkest Hour   Gary Oldman will no doubt get a well-deserved Oscar nomination for this film, but beyond his performance I'm not sure the film deserves any other accolades, except perhaps some set design kudos. After seeing Churchill earlier this year and then Dunkirk, it felt redundant. Sure, they each take different slices of the same pie, but I just didn't feel like this one was all that special.
The Other Side of Hope (Toivon tuolla puolen)  You don't go to an Aki Kaurismaki film expecting a normal narrative. You go because they're usually quirky stories with quirky characters. This one was definitely that, but, dare I say, boringly so. In it a Syrian refugee arrives in Helsinki only to be denied asylum and to escape from detention. He hides out in a dysfunctional restaurant where he gets a job. There are some Nazi thugs that keep turning up trying to kill him, and the people at the restaurant take care of him. But it never actually went anywhere for me.
AND THE WHY? OH, WHY? WINNER IS…
Hostiles – In this Western from writer/director Scott Cooper (Black Mass, Crazy Heart), Christian Bale plays an Indian-hating Army captain who is forced to escort a Cheyenne Chief back to his home. Along the way, he meets a woman (Rosamund Pike), whose whole family was killed by some other bad marauding Indians, and together they travel from New Mexico to Montana at a glacial pace. Somewhere along the line, the captain decides that the Indians are not all bad. The film has no character development and besides being nicely photographed, I couldn't find anything to like about it.
[Note: Mainstream Chick also attended the festival! For her perspective check out Mainstream Chick's Middleburg Film Festival Download]