Currently browsing the "
dinosaur

" tag.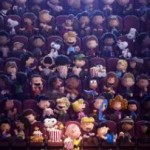 I'll make this quick since The Peanuts Movie and The Good Dinosaur are the only options out there right now for the under-10 set. Neither movie blew me away, but both are fine choices to keep the kids occupied. Youngsters will generally enjoy the movies more than their adult chaperones – unless those adults have a built-in soft spot for a classic Peanuts cartoon. The characters and the endearing messages ring a familiar bell as the Peanuts gang created by Charles Schulz make their big-screen debut, in 3-D no less. But at 92 minutes, this G-rated film feels quite long. There's something to be said for a half-hour (or maximum one-hour) Great Pumpkin or Christmas special, especially when the story is – as it should be – a very simple one.
As Arty Chick, I am a great lover of the documentary genre and this year's AFI DOCS in Washington, DC sated my docu-hunger quite well. As with any festival, there were standouts and there were films that raised interesting topics, but did not meet my expectations in terms of filmmaking/storytelling. And an even larger problem was that the festival was spread between Silver Spring, MD and downtown DC, making the logistics a bit of a conundrum for an out-of-towner like me. The sheer number of films I wanted to see was simply impossible, but I can honestly say, I gave it my all.
Here's what I thought of the first two days.