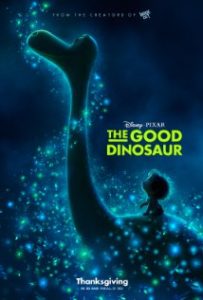 I'll make this quick since The Peanuts Movie and The Good Dinosaur are the only options out there right now for the under-10 set. Neither movie blew me away, but both are fine choices to keep the kids occupied. Youngsters will generally enjoy the movies more than their adult chaperones – unless those adults have a built-in soft spot for a classic Peanuts cartoon. The characters and the endearing messages ring a familiar bell as the Peanuts gang created by Charles Schulz make their big-screen debut, in 3-D no less. But at 92 minutes, this G-rated film feels quite long. There's something to be said for a half-hour (or maximum one-hour) Great Pumpkin or Christmas special, especially when the story is – as it should be – a very simple one.
In The Peanuts Movie, perennial underdog Charlie Brown embarks on a quest to win the heart of the new 'red-haired girl' in class while a parallel plot features Snoopy taking to the skies to pursue his arch-nemesis, the Red Baron (a plot that I think went way 'over the heads' of the younger kids.) 'Guest chicklet' Ella F. (6) deemed the movie "good" and said she would recommend it to "some" of her friends. In a nutshell: The Peanuts Movie is classic Peanuts, but unlikely to become a Peanuts classic.
Meantime, The Good Dinosaur (PG) is the better choice for older kids. The animation is visually stunning, but the narrative is extremely uneven in tone, so be prepared for major shifts from cute and funny, to sad and scary, to stupid, to poignant. Here's the premise: An asteroid that would have killed off the dinosaurs misses Earth completely, allowing the giant creatures to go about their daily lives for millions of years to come. Among them: a farming family of dinosaurs that includes a young Apatosaurus named Arlo (voice of Raymond Ochoa), who doesn't quite fit in. When tragedy strikes, Arlo is forced to face his greatest fears and find his way back home. Along the way, he forges an unlikely alliance with an orphan cave boy name 'Spot' and the pair encounter a menagerie of creatures that will test their survival skills and their friendship. The Good Dinosaur is basically a mashup of The Lion King, Happy Feet, and Finding Nemo – in prehistoric times. But like The Peanuts Movie, The Good Dinosaur is not destined to become a classic. It's more likely to go the way of the dinosaur…
No Comments Yet
You can be the first to comment!
Leave a comment