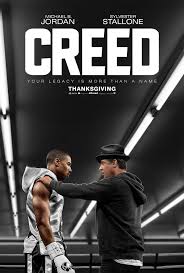 All things considered, Creed does the Rocky franchise proud. Buzz suggesting that it should be an Oscar contender is a bit over the top, but the movie is certainly satisfying in a Rocky meets The Karate Kid sort of way. Think of Rocky Balboa (Sylvester Stallone) as the new Mr. Miagi. "Wax on, wax off Adonis-san!" It's part sports drama, part chick flick, and therefore, has broad mainstream appeal. It also has the appealing presence of rising star Michael B. Jordan (Fruitvale Station, Friday Night Lights) as the son of Rocky's late friend and former rival Apollo Creed.
Here's the gist: Rocky is living a quiet life running a restaurant (Adrian's!) in Philly when Adonis Johnson (Apollo's son from an affair) calls on the former Heavyweight Champion of the World to train and mentor him. The pair develop a special bond and come to depend on each other for support inside and outside the ring.
There is a deep nostalgia factor to Creed. It paves the way for a reboot while paying homage to the best of the previous Rocky films (in case you're counting – there have been six, starting with the Academy Award-winning Rocky in 1976. Rocky III and Rocky V were extremely forgettable, but I do have a soft spot for the others.) There are moments in Creed where you actually feel like Rocky Balboa was real, and not just a fictional boxing champ, especially when the characters are standing next to the Rocky statue atop the infamous steps of the Philadelphia Art Museum, or when Adonis is watching clips of Rocky and Apollo's 'historic' battles on YouTube. Anyone in or from Philly should consider checking out this movie at some point since the city is – and always has been – as much a supporting character as any other in the Rocky franchise.
The boxing scenes are surprisingly entertaining to watch, if you're not too squeamish and the crowd is engaged. When I saw it, the audience was cheering and wincing and groaning as if sitting ringside at an actual championship match.
Creed doesn't have the grit, stakes, or villains that were hallmarks of the (best of the) Rocky movies. But it does have the heart, and even elicited a few tears during some of the more emotional exchanges between Rocky and his protege. If this movie does well enough at the box office, I wouldn't be surprised to see a Creed 2 hitting theaters by 2018.