Currently browsing the "
Emmanuelle Riva

" tag.
And the award for this year's best slap-stick movie goes to … Lost In Paris, hands down! And though I'm not really a fan of most modern slap-stick, I loved this film. In it librarian Fiona (Fiona Gordon) who lives in the icy north of Canada receives a letter from her favorite Aunt who lives in Paris asking for her help, so she jumps at the chance and heads to France only to find Aunt Martha (Emmanuelle Riva) MIA. And then after losing all her possessions in an accidental plunge into the Seine, she meets kooky hobo Dom (Dominique Abel) who decides to help her find Martha, whether she wants him to or not. He is smitten. She's desperate.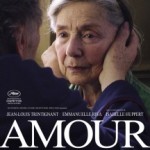 Amour has been at the top of a lot of lists this awards season. It is Oscar nominated for Best Picture and Best Foreign Language Feature (that has only happened 5 times), Best Director, Best Actress, and Best Original Screenplay. It won the Palme d'Or at Cannes and the Golden Globe for Best Foreign film. And yet, I wasn't all that blown away by it. Austrian director Michael Haneke was also the festival darling in 2010 for his film The White Ribbon which left me cold. So maybe, even though I am the arty one, he is just not the director for me. Which is not to say that the film is bad. It is just that it is too long and there are quite a few things that felt entirely gratuitous.