Currently browsing the "
family dysfunction

" tag.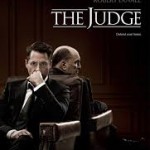 Oh, you want to know more?
Okay, here goes. The Judge is riddled with clichés, runs about a half-hour too long, and doesn't really offer up anything groundbreaking. But I still liked it, mostly because Robert Downey Jr. is so darn watchable – even more so when he's not obscured by an Iron Man suit. The guy is aging – and acting – really well.
This Is Where I Leave You starts off strong, then loses its way, despite having an A-List cast with the chops to achieve something far greater. Perhaps it was the script. Or the over-abundance of family dysfunction that seemed to loom larger than the fake boobs proudly (and often) exhibited by Jane Fonda's matriarch character.
Here's the gist: When their father passes away, the four grown Altman siblings are forced to return home and live under the same roof for a week with their over-sharing therapist mother (Fonda) who used her kids as fodder for a bunch of best-selling books on family dysfunction. The apple doesn't fall far from the tree. The siblings spend the week confronting their past, present and future, with an array of spouses, exes, significant others, kids, friends and foes added to the mix- for occasional comedic and dramatic effect.