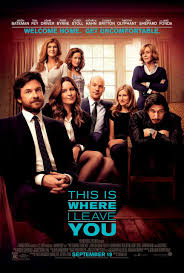 This Is Where I Leave You starts off strong, then loses its way, despite having an A-List cast with the chops to achieve something far greater. Perhaps it was the script. Or the over-abundance of family dysfunction that seemed to loom larger than the fake boobs proudly (and often) exhibited by Jane Fonda's matriarch character.
Here's the gist: When their father passes away, the four grown Altman siblings are forced to return home and live under the same roof for a week with their over-sharing therapist mother (Fonda) who used her kids as fodder for a bunch of best-selling books on family dysfunction. The apple doesn't fall far from the tree.
The siblings spend the week confronting their past, present and future, with an array of spouses, exes, significant others, kids, friends and foes added to the mix- for occasional comedic and dramatic effect.

Jason Bateman (more or less playing your typical Jason Bateman character) is Judd, the lynchpin sibling in this ensemble storyline as he deals with the aftermath of walking in on his wife going at it with his narcissistic boss. Tina Fey plays his sister Wendy, a cynical, sarcastic and frayed wife and mother who still has feelings (mostly of guilt) about breaking up with a neighbor who suffered brain damage in their wild youth. Corey Stoll plays the straight-laced brother Paul who took over the family's sporting goods business and married Judd's ex-girlfriend. And Adam Driver is probably the most complex and interesting character, Phillip, an endearing if immature playboy type who despite claims to the contrary, isn't ready to give up life in the fast lane. (side-note: Coincidentally this week, I also saw Driver playing a National Geographic photographer in the indie film Tracks. More on that in a future review, but I will say he gives an excellent and nuanced performance in that flick as well, proving the dude from Girls has some range).
This Is Where I Leave You, based on a novel by Jonathan Tropper, is a dramatic comedy that has moments of brilliance, especially for anyone who's actually spent a few days sitting shiva for a family member. Bring on the kugel! But somewhere along the way it stopped being funny or poignant, and got kind of weird before settling in on its final message: that family relationships can bring out the best and worst in people, and nobody knows you quite like a sibling. It's a double-edged sword. Just ask my brothers… ☺
No Comments Yet
You can be the first to comment!
Leave a comment