Currently browsing the "
Fisher Stevens

" tag.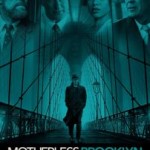 Motherless Brooklyn is the type of film that evokes a general sense of post-viewing contentment, and a lingering feeling that it could have been more. Perhaps with a bit more drama, or a bit more emotional pull, it could have escaped the somewhat bland "yeah, it was good" category, i.e. perfectly fine for streaming or watching on an airplane or killing time if Terminator films are not your speed. Motherless Brooklyn operates at a slow, stylized pace. The story is interesting and relevant. The actors are all very good, and the noir production design and cinematography casually and convincingly immerses the viewer in 1950s New York. Motherless Brooklyn is a crime drama with a gumshoe aesthetic and a unique twist. The main character Lionel Essrog (Edward Norton, Birdman) is a private investigator with Tourette's Syndrome, a disorder involving the nervous system that causes involuntary tics, sounds and movements. His condition results in some awkward situations as Lionel attempts to solve the murder of his boss, mentor and only friend Frank Minna (Bruce Willis).
Great actors does not a great movie make. Pardon my grammar, but that's my final answer on Stand Up Guys, a dark comedy starring Al Pacino, Christopher Walken and, to a (much) lesser extent, Alan Arkin. Needs more Arkin! Take these fine actors out of the mix, and you've got a pretty boring movie with way too many boner jokes. Maybe that's why it's called Stand Up Guys?! I'd rather not know. Anyway, the film looks and feels like a throwback to the gangster movies of the 1970s, only now our wiseguys are firmly in the twilight of their lives and careers. The film is part homage, part satire, and part melancholy. It opens with Walken's character, Doc, picking up his best friend Val (Pacino) from prison, where's he's served 28 years. The reunion is bittersweet, however, because Doc has orders from the mob boss to kill Val – and both men know it. They decide to make those final hours count, and that means plenty of drinking, eating, pill-popping (mostly Viagra and blood pressure meds), brothel visits, and even a bit of gangstering with their old pal and wheelman Hirsch (Arkin).