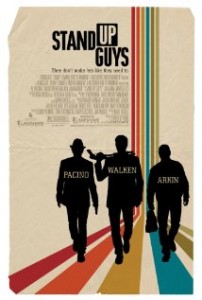 Great actors does not a great movie make. Pardon my grammar, but that's my final answer on Stand Up Guys, a dark comedy starring Al Pacino, Christopher Walken and, to a (much) lesser extent, Alan Arkin. Needs more Arkin! Take these fine actors out of the mix, and you've got a pretty boring movie with way too many boner jokes. Maybe that's why it's called Stand Up Guys?! I'd rather not know. Anyway, the film looks and feels like a throwback to the gangster movies of the 1970s, only now our wiseguys are firmly in the twilight of their lives and careers. The film is part homage, part satire, and part melancholy. It opens with Walken's character, Doc, picking up his best friend Val (Pacino) from prison, where's he's served 28 years. The reunion is bittersweet, however, because Doc has orders from the mob boss to kill Val – and both men know it. They decide to make those final hours count, and that means plenty of drinking, eating, pill-popping (mostly Viagra and blood pressure meds), brothel visits, and even a bit of gangstering with their old pal and wheelman Hirsch (Arkin).

I was a bit surprised by the raves that several "critics" (I use the term loosely since I took part) offered up in a post-screening internet chat with the director, Fisher Stevens. While my chat-mates focused on the methodology of the veteran actors and deeper underpinnings of the story, I asked Stevens (who's also an actor) about a potential collaboration someday with Kyle Chandler, his co-star from the late-1990s TV series Early Edition. I don't think Stevens appreciated the admittedly shallow question, though he did respond, saying Chandler had "turned into a fine actor" and that he'd love to work with him again someday – "but not on a sequel to Early Edition." Okay, I get it. EE wasn't exactly "art", but I liked it!
On a more relevant (to the movie) note, Fisher says the underlying message of Stand Up Guys is this: "Live life to the fullest every day, whether it's your last or not" and "being a loyal friend is more important than almost anything."  True that. So while I wasn't particularly enamored with Stand Up Guys, I do like the message it's trying to convey – just not enough to recommend it to the mainstream crowd.